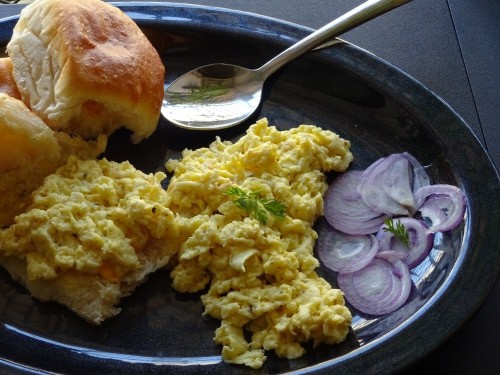 Scrambled Egg
Scrambled eggs is a dish made from eggs (usually chicken eggs) stirred or beaten together in a pan while being gently heated, typically with salt and butter and variable other ingredients. There are few other ingredients which can be added in this dish like cheese, chives, herbs etc. It is quick recipe. Whisking and cooking plays an important role in this recipe. Need to whisk eggs vigorously to get fluffier scrambled eggs. Don't overcook else they will become hard and brown. It will take 3-4 minutes for cooking. This is American style scrambled egg. In Indian style it is called as Egg Bhurji which includes Eggs, Finely chopped onions, tomatoes, green chili and lots of masalas. It is one of the popular street food in Mumbai and named as Egg or anda Bhurji Pav.
Ingredients
Eggs - 2

Cream - 1tbsp or full fat milk - 2 tbsp

Crushed black paper - 1/2 tsp

Salt to taste

Oil or butter - 1/2 tbsp

For serving - Brown bread or Pav
Instructions
In a bowl whisk together eggs, cream, crushed black paper and salt until mixture has just one consistency.

In a nonstick pan heat oil. Pour whisked egg mixture. Keep untouched for 10-15 seconds.

Stir using wooden spatula lifting and folding it over from the bottom of the pan.

Repeat this until eggs are softly set and slightly runny.

Switch off the flame. Let egg cook on pan for few seconds

Serve hot with brown bread or Pav or even chapati.
Notes
Don't overcook and let egg develop a leathery brown skin on the bottom.
Whisk eggs vigorously before cooking this will incorporate air resulting in the fluffier scrambled eggs.