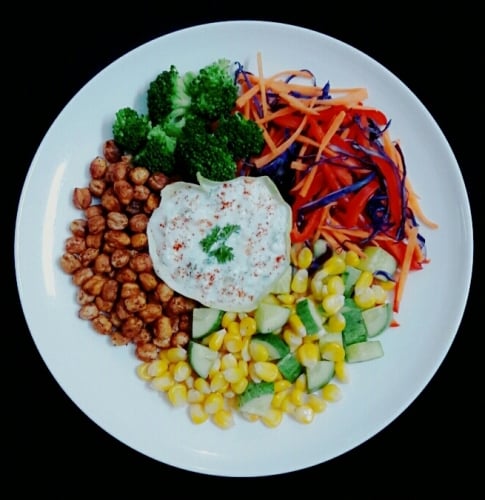 Pro-Veg Platter With Greek Yogurt Dip
Healthy alternative to fast foods for satisfying your small hunger pangs. It's quick, easy and colourful and has crispy spice roasted chickpeas with corn and fresh veggies.
Ingredients
1/3

cup

Broccoli

1/3

cup

shredded red cabbage

1/3

cup

shredded carrot

1/4

cup

sweet corn

1/4

cup

roasted chickpeas

1/4

cup

red bell pepper

1/4

cup

cucumber

For Greek Yogurt dip: 1/3 cup greek yogurt

1/2

english cucumber

1

tbsp

lemon juice

2

garlic cloves minced

2

sprig parsley leaves

1/2

tsp

black pepper

Salt to taste
Instructions
Arrange boiled broccoli, shredded red bell pepper, red cabbage and carrot, roasted chickpeas, chopped cucumber and sweet corn in a bowl.

For the dip: In a bowl take Greek yogurt, finely chopped cucumber, minced garlic, lemon juice, chopped parsley, salt, pepper and mix well and keep aside.

Pour over the yogurt dip on the veggies and Serve!
Notes
This recipe is recommended by Ubic Fitness.
This recipe has 230 calories.