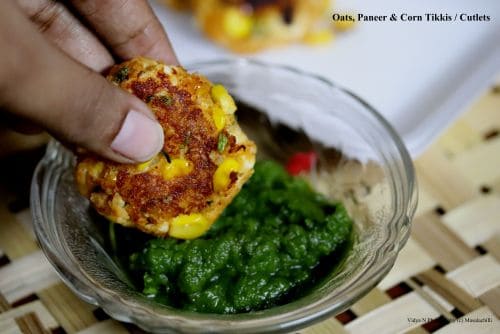 Oats, Paneer And Corn Tikkis Or Cutlets
We all crave for aloo tikkis that are crunchy and crisp on the outside and soft on the inside. Well the fact is it is deep fried, has only potatoes as a main ingredient with very little nutritional values. These Low Oil Oats Paneer and Corn Tikkis or Cutlets are the healthier version of aloo tikkis or cutlets and are kid friendly too. If you are looking to cut down on your family's consumption of fried foods and want to introduce something healthy, this recipe is for keeps. I have used only an single potato in the making of this dish and instead focused on paneer or cottage cheese to make it filling as part of kids tiffin box or even after school snack option. The masalas or spices are also kept to a minimal keeping in mind that they could be kid friendly snacks or even a good breakfast option for adults. Paneer or cottage cheese and oats help you stay charged throughout the day and are much needed good source of protein and healthy carbs from oats with a dose of fiber ensures you stay full for longer.
Ingredients
Paneer – 250 gms

Oats – 1 cup

Potatoes – 1 nos.

Boiled corn – ½ cup

Salt – as per taste

Paprika powder – 1 tsp

Oil – 1 to 3 tsps

Garam Masala Powder – 1 tsp

Finely chopped green chillies

optional

Finely chopped Coriander leaves – as required
Instructions
Boil the potatoes using either a pressure cooker or microwave oven. Once cool, peel the skin, grate them and keep aside

Grate or crumble the paneer.

In a mixing bowl, add the potatoes, crumbled or grated paneer, oats and boiled corn.

I have used quaker oats and have added it as it is. In case you want, you can powder the oats too and add the same.

Add the paprika powder, salt, green chillies (optional), garam masala powder, coriander leaves and mix well.

Take a small portion of the mixture and give them shape of tikkis or cutlets. Refrigerate these tikkis for a minimum of 30 mins before pan frying.

In case you are making these tikkis for the next day tiffin for kids, store the tikkis in a container and store it in the refrigerator.

If you are making it for immediate consumption, heat a non stick pan, add few drops of oil, and then pan fry these tikkis on both sides on low flame.

Serve them hot with some Coriander chutney and tomato ketchup.
Notes
You can try adding Blanched and chopped palak / spinach leaves or spinach / palak puree. In that case, increase the quantity of potatoes to 2 – 3 nos. Or you could opt for raw bananas that are boiled and mashed too.
If you have leftover palak paneer, grind it in the mixer, add oats and potatoes to make tikkis in similar way. You can avoid the spices and coriander as palak paneer already has masalas in it. Just adjust salt.
You can add grated carrots, boiled peas, boiled & finely chopped broccoli too.
Paneer is a good source of milk protein ideal for kids as breakfast option, evening snacks etc. The oil used in the recipe is very less (1-3 tsps for 15 tikkis).
Note – Between the preparation time of 30 mins that includes boiling few ingredients, additional time of 30 minutes is required to refrigerate the tikkis before pan frying them.