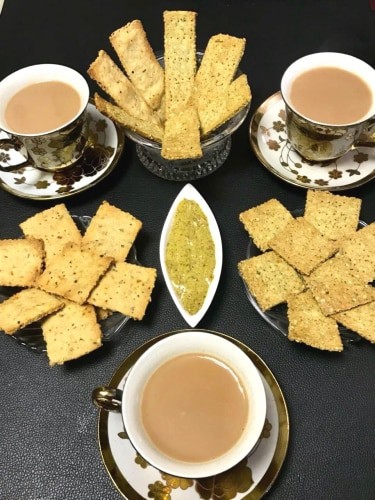 Multigrain Masala/Savoury Crackers With Or Without Oven
Call these Crackers or Mathri or Khakra or Biscotti … whatever you may call them but one thing remains common and that is ultra crispiness. These crackers are not only baked but are made without maida, baking powder and baking soda. These crackers have the goodness of 4 flours- wheat, semolina, oatmeal and rice flour. Either make them Indian style by adding dried fenugreek leaves and sesame seeds. But as my son didn't like these so I gave a continental touch to these same crackers by adding oregano and chilli flakes and he just freaked out. You too can add any variety of spices like jeera, ajwain. fennel seeds, onion -garlic powder or just plain.as per your liking and preferences. The result is just too good, either way. Whichever flavour you choose, do not forget to share it here so that we too have an idea of that and try it in our kitchen. Baked these both in air fryer as well in wok (kadhai) on a gas stove. I tried in cooker also, all well but can bake only 4 or 5 only at one go, as the circumference of cooker puts a limitation. Comparatively, kadhai offers a big area. And needless to say, you can bake it in oven too. I have explained baking in all these, please choose whichever method you wish to use.
Ingredients
1/4

Cup

30 g Wheat Flour

1/4

Cup

25 g Oatmeal

1/4

Cup

40 g Rice Flour

1/4

Cup

50 g Fine Semolina

1/2

tsp

Salt

1

Tbsp

Dried Fenugreek leaves

crushed (Kasturi Methi)

1

Tbsp

Sesame Seeds

1/4

tsp

Whole Spice Powder

Garam Masala (Optional

3

Tbsp

Oil

any cooking oil

1

Tbsp

Curd

1/4

Cup

+ 2 Tbsp Milk

at room temperature
Instructions
Take all the four flours, salt, sesame seeds, dried and crushed fenugreek leaves and whole spice powder in a bowl.

Slowly add milk and gather it into a ball. The quantity of milk may vary so do not add all milk at one go. Use as required. Do not keep the dough very hard. Keep it slightly soft.

Cover it and let it rest for minimum 15 minutes on kitchen counter only. No need to refrigerate it. You can leave longer also.

Before rolling out the crackers, start preheating airfryer or kadhai . Preheat kadhai for 10 to 15 minutes on medium flame.

Divide the dough in 2 parts. Dust little flour on the kitchen counter and roll it thinly, slightly thicker than chapati.

With the help of a knife, lift each cracker and place it in the baking pan. No need to leave a gap between 2 crackers like it is done in cookies. This is because these crackers do not expand while baking. On the contrary, they shrink a little.

Collect the scraps, mix it in the remaining dough and repeat the process

Continue doing so till all the dough is used up

Now bake them in otg or airfryer or on the gas stove.(See below)

After baking, keep the crackers on a wire rack till cools down completely. They will be little soft when out of the oven, will get crisp as they cool down. Like shown in the pic. Its a pic of different cookies as I forgot to click of this one.

Airfryer Method: Preheat airfryer at 180 degrees for 5 minutes. Take out the basket, keep the crackers in it and return it to the airfryer machine. Reduce the temperature to 160 degrees and bake the crackers for 15 minutes approximately.

No need to flip the crackers in between. When the colour changes and sides get golden brown, they are done.

Gas stove Method: Keep a wide kadhai on gas stove. Lay salt/sand. Keep a stand on it. Cover and preheat for 10 to 15 min on medium flame.

Keep the crackers on the baking pan & keep it in the preheated kadhai. Choose a plate which can be held with tongs as the kadhai is really hot and it is very difficult to do with hands. I used my pie dish for this. You can even use cake pan.
Notes
Use fine semolina only. In case you don't have it then grind your normal semolina in the mixie and you will have fine one.
Use readymade oatmeal or simply grind oats in the grinder.
You can replace fenugreek leaves with cumin seeds, if need be.
Adjust seasonings as per your taste and preferences.