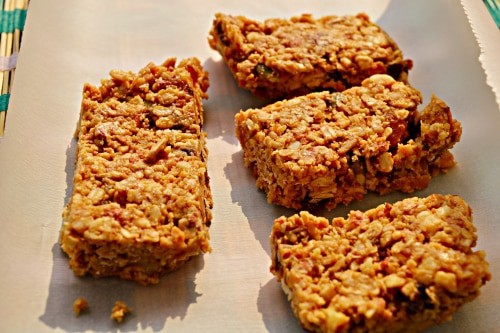 Granola Bars (No Bake)
Granola bars are grab-and-go breakfast food or snack bar where rolled oats, dried fruits, nuts are blended with sweeteners like honey, maple syrup or peanut butter. One of the most popular snacks among hikers and travellers, as it is convenient to grab and eat while in action, the chewy granola bar was invented in New York, America.
These snack bars are available in the market, with a variety of flavours ranging from peanut butter, chocolate chip, marshmallows, almonds as the most popular one.
But as always making your own food at home means more health and hygiene, making healthy homemade no bake granola bar is an easy recipe.
Are granola bars healthy for you? - When it comes to granola bar nutrition, there is an open debate among nutritionist as some claim that granola bars available in the market such as nature valley granola bar are as equally high in calories ( 46 gram of granola bar has 230 calories) as the KitKat chocolate bar. However, if we are conscious, we can make the healthy granola bars at home by substituting the healthy ingredients like honey in place of peanut butter or maple syrup.
If you are thinking - How do you make granola bar at home, here is the most simple, no bake, easy peanut butter granola bar recipe to begin with which once mastered can be innovated to more variety of granola bar recipes.
Ingredients
1

Cup

Instant oats

3/4

Cup

Almonds

crushed

2

tbsp

berries

dried strawberry, Dried cranberry

2

tbsp

Mix seeds

Sunflower, Melon, Pumpkin

2

tbsp

dried Fruits

Mango, Pineapple, apricot

2

tbsp

honey

3

tbsp

peanut butter
Instructions
Toast Oats, Nuts and seeds- At a low flame, dry roast the instant oats for 2 minutes or until slightly golden brown and keep aside. dry roast the crushed almonds and seeds like sunflower seeds, melon and pumpkin seeds. Set aside. Let it cool down.

In a medium-sized bowl, add all the roasted dry ingredients - oats, nuts and seeds. Throw in other dried fruits like mango, pineapple and apricot along with dried berries like dried strawberry and cranberries.

Add in peanut butter and pour over honey, stir until the peanut butter dispense throughly and is well-incorporated.

Once mixed thoroughly, line a baking tray of 8* 8 inches with the parchment paper and spread the gooey mix on the parchment paper.

Start spreading the oats mix and press firmly and pack it thoroughly. To get a firm and easy to cut granola bars, it is very important to press it as much as possible. This will ensure no falling apart Granola bar.

Keep the granola bars tray in fridge for 1 hour.

Take out the tray and remove the bars from the tray by pulling out the parchment paper. Chop it into 10 bars. Store it in an airtight container. Your homemade granola bars are ready to be grabbed.

These are healthy breakfast bars or snack bar which can be very handy when you travel. Wrap them in separate plastic cling film while travelling.
Notes
Here is the list of other Granola Bar Recipes – 
About the Author :
Meera Girdhar loves to add twists to simple dishes and make them mouth-watering, presentable, healthy and of course different. Her love for perfection and desire to achieve it to a level that satisfies her daughter, made her start the blog Exotic and Easy. Additionally, she is heading HR for an IIT/IIM start-up and always enjoy to manage three worlds – home, career, and taste-buds. You can follow her blog – 
 Exoticneasy or connect to her Facebook page. Follow her on Plattershare, Twitter, Pinterest and Google Plus.
Reference external links – Ref1, Ref2
Recipe Nutrition
Calories:
525
kcal
|
Carbohydrates:
36
g
|
Protein:
17
g
|
Fat:
39
g
|
Saturated Fat:
4
g
|
Polyunsaturated Fat:
10
g
|
Monounsaturated Fat:
23
g
|
Trans Fat:
1
g
|
Sodium:
104
mg
|
Potassium:
547
mg
|
Fiber:
8
g
|
Sugar:
23
g
|
Vitamin A:
7
IU
|
Vitamin C:
1
mg
|
Calcium:
158
mg
|
Iron:
3
mg