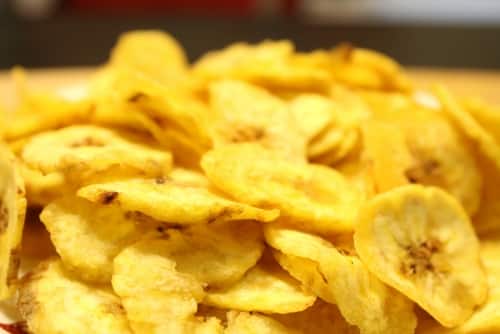 Yellow Banana Chips
Crispy and fried plantain chips, usually made in the Indian states of Kerala and Tamil Nadu, and known locally as nenthra-kaaya oopperi or upperi in Kerala, are fried in coconut oil. They are very well known as KELA Chips also. Specially Surti bananas give it natural yellow colour to the chips as compared to other plantain.
Ingredients
Raw Bananas / Surti Banana / Plantain – 2 nos

Vrat Salt – ½ tsp

Coconut Oil / Cooking Oil for deep frying – as required
Instructions
Take two raw Bananas and cut the ends from both the sides.

Give the vertical cuts to the skin without touching the Banana.

Then peel off the skin with your hand.

Take Coconut Oil in a pan and allow it to heat.

With the help of Chips grater sliced the peeled Banana.

Add one by one-sliced Bananas into the heating Oil pan and deep-fry on medium flame until gets the crispy sound.

Drain off over kitchen towel to remove excess Oil from the fried chips.

Add ½ tsp of Salt to the chips and allow it to cool down completely.

Once cooled down, transfer to the airtight container to remain crispy.

Serve with Tea or just as Snacks.
Notes
Use of only Surti Banana will give the Yellow Banana Chips.
Cooking Oil can replace Coconut Oil.
Sprinkle Red Chilli Powder or Black Pepper powder if wants spicy chips.
Do not let Chips turns golden brown as it would not taste good.