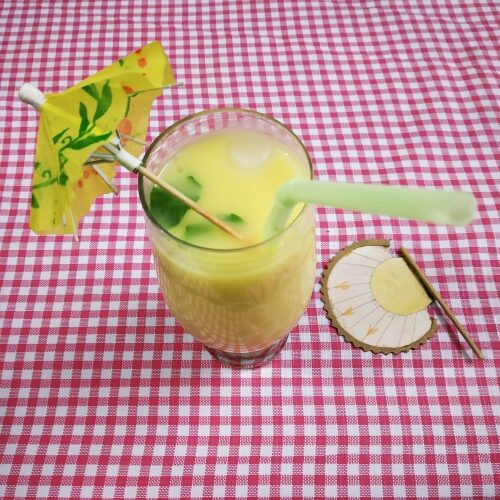 Wood Apple Drinks(Baeler Sarbat)
15 April, 2018
In Bengal it is known as Bael fruit. Some other countries it is known as golden apple, stone apple or wood apple. Eating bael fruit we can relief from constipation, indigestion, peptic ulcer, piles, respiratory problems, diarrhoea and dysentery. Nature has created this fruit only in summer season. That's why we can quench our thirst with bael as a summer drinks. My mom's recipe I am sharing with you. She used to serve us now serving to my family.
Ingredients
1

cup

wood Apple extract

2

glasses butter milk

1

tbsp

jaggery

Few fresh mint leaves

Ice cubes
Instructions
Break the hard shell of bael scoop the flesh.

Take a mixing bowl add the flashy part sprinkle with water. So it will easy to squeeze.

Strain with a Maslin cloth, adding butter milk. Extract will come out add more butter milk.

Add jaggery and make shake. Serve chilled with fresh mint leaves. You can add ice cubes.
Notes
It has own flavour so no need to add any extra flavour.