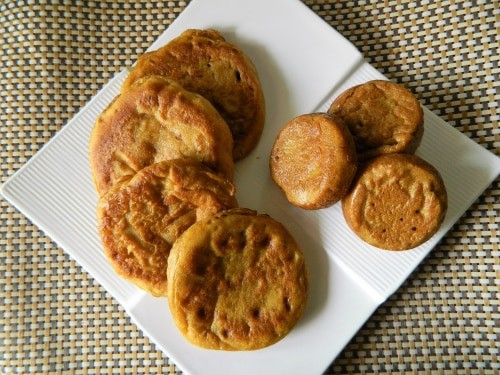 Whole Wheat Crumpets
Crumpet is small, thick, mildly salted and negligible sweetened flat bread with a soft and porous texture. We are all familiar with the tea and crumpets phrase. Crumpets are made from a flour and yeast mixture on a griddle / pan, served toasted and buttered, along with tea. They are categorized one among fast breads. I spotted them during my recent visit to the United Kingdom. They are absolutely delicious, soft and porous resembling a pancake and English muffin. They are usually made using crumpet rings on a hot griddle / pan. I did not have those rings, hence used my small size pan to cook them. Further, I have also narrated the baked version of these crumpets using a muffin pan. Enjoy these yummy British teatime treat, dripping with butter and jam and a dollop of fresh cream if desired. They can as well be served with savory spread. These crumpets are cooked using whole wheat flour unlike the original version where it is cooked using strong white bread flour/all purpose flour.
Ingredients
1

½ cup whole wheat flour

¼ tsp caster sugar

¼ tsp salt

½ tsp baking soda

¾ tsp instant yeast

½ cup milk + 1 cup water

Oil and butter as required
Instructions
Mix flour, salt, sugar and baking soda together in a mixing bowl.

Make a well and add the instant yeast.

Warm the milk and water mixture; pour it slowly into the bowl.

Cover the bowl and keep it in a warm place for 30 – 60 minutes for the batter to rise / until you see small bubbles in the batter with a spongy consistency.

Check after 30 or 45 minutes, when the batter starts bubbling up a little, the batter will be sticky and spongy. Stir the batter once or twice using a ladle.

PROCEDURE FOR PAN FRIED CRUMPETS:

Heat a griddle / pan. Apply little oil and pour a small ladle full of batter into the pan. (If you are using crumpet rings, place those rings in a larger pan and pour the batter into each ring)

Smear little butter on the edges of the pan and flip it and cook for few more minutes.

PROCEDURE FOR BAKED CRUMPETS:

Preheat oven at 160c and grease the muffin cavities of a muffin tray with oil.

Pour the batter up to 2/3rd level in each muffin cavity.

Place the muffin tray inside the preheated oven and bake for 15 – 20 minutes at 160c.

Brush the baked crumpets with butter and allow the tray to cool for few minutes. Using a knife gently run over the edges of each cavity and tap the crumpets out of each cavity.
Notes
Instead of making small crumpets, you can as well make few large crumpets using the batter. The cooking time will increase proportionally. I used the smallest pan and it did not take more than 2 minutes to cook on each sides.
Using this measurement I could obtain 5 small sized crumpets, pan fried and 4 baked crumpets.
Cooking time / baking time depends upon the size of the pan / settings of your oven. Adjust accordingly.
The main picture has both pan fried and baked versions of crumpets placed on the plate.