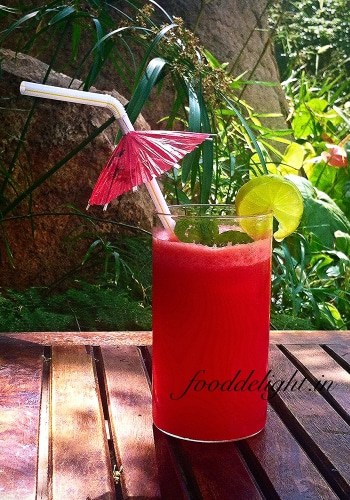 Watermelon Lemonade
29 March, 2018
The mercury is soaring high, so the watermelons and lemons are available in abundance. So here is a refreshing thirst quencher Watermelon Lemonade…
Ingredients  
Watermelon diced - 4 cups

White Sugar - 1/4 cup

Water - 1/4 cup

Juice of Lemon - 1/4 cup

Cold Water - 1 - 1/2 cup

Crushed Ice - 3 cups
Instructions 
In a blender, put the cubed watermelon and blend it well for about 30 seconds. Now once the juice is made sieve it through the fine strainer.

Now in a bowl add sugar and water. Heat them together on the gas to make sugar syrup.

Take a big bowl, mix together watermelon juice, sugar syrup, lemon juice and cold water well. Watermelon Lemonade is ready.

In each glass, put few ice cubes, and pour the watermelons lemonade. Serve immediately…. Enjoy!!!!