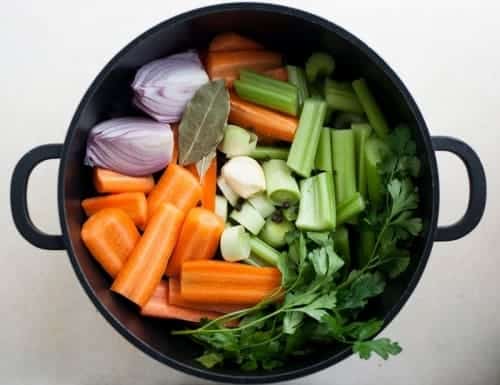 Vegetable Stock
26 May, 2020
This is actually a basic stock which is used as an supplement to help main dishes to have vegetables infused flavors. This in fact is not directly drank but its a ingredient used to enhance any dish with the intense taste of vegetables. We can use this to add on our daily meal curry, pasta, soups, sauces where ever we add liquid.
Ingredients  
Large Pot - 1

Leeks - 1stick

Celery - 2 sticks

Carrot - 1pc

Red Onion - 1pc

Garlic Clove - 4pcs

Bay leaf - 3PCs

Dry is fine

Black Peppercorn - 10 seeds

Thyme - 5sprigs

clove

- 3 PCs

Optional
Instructions 
1. First of all, please get your all the ingredients ready. Vegetables like leeks, celery, carrot, onion most be cleans nicely rinsing thoroughly to remove its dirt particles.

2. Secondly, take your clean cutting board and a good knife. Start cutting the vegetables roughly.

3. After you make ready all the ingredients cleaned, cut and ready then stand a pot on a stove with full flame. Add water lesser than full than drop your cut veggies on it along with herbs like bay leafs, garlic, peppercorn & thyme.

4. Then, When water is getting simmering temperature lower the flame and let it boil slowly for at least an hour. This procedure is necessary because low flame will keep the veggies flavors come out diluting with water.
Notes
This recipe is not a rocket science. It can be practiced at home as well to make our home dishes more flavorsome, tasty and healthy as well. This can be used as a veg soup if we season this stock and add some condiments on it. Absolutely healthy no any aditives are are in it.
Enjoy Your food, take your homecooking to a next level