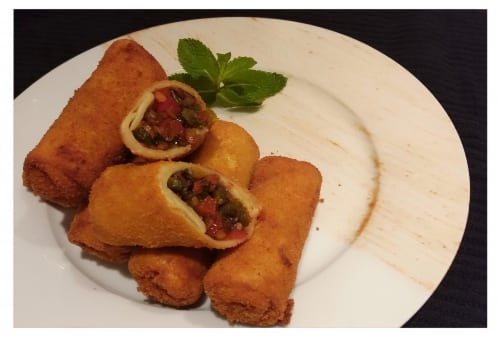 Vegetable Spring Rolls
#PSMOTHERSDAYSPECIAL My mum is a legend, once we had gone to a restaurant and tasted their signature veg spring rolls and she had just replicated the same at home, the next day. So this remains my favourite recipe made by her. Learnt it from her and want to dedicate this to her.
Ingredients
For the stuffing : Onion

chopped - 1

Carrots

chopped - 1/2 cup

Beans

chopped - 1/2 cup

Spring onions

chopped - 1/4 th cup

Bell peppers

chopped - 1/4 th cup

Chopped garlic - 1 tbsp

Chopped ginger - 1/2 tbsp

Chopped green chillies - 1 tbsp

PEPPER powder - 1/2 tsp

Ajinamoto

optional - 1/4 th tsp

Salt

Refined oil

For outer covering : Eggs - 2

Maida - 1 cup

Salt

Water

Bread crumbs

Egg whites
Instructions
Heat a pan with little oil, once heated add chopped garlic, ginger and green chillies.

Once they smell, add the chopped onion and saute till translucent.

Then add the carrots and beans along with some salt. Cook till almost done.

Then add the chopped bell peppers, spring onions. Add pepper powder and ajinamoto and cook till the mixture is dry.

To make the outer covering, whisk the Eggs, with little salt. Mix in the Maida and required amount of water to make a batter like dosa.

Now heat a non stick pan, put a ladle of the Maida batter like a dosa. Once it is cooked, remove it from heat onto the work table.

Put a spoon of the vegetable mixture and fold it as shown in the picture.

Whisk the egg whites, dip the spring roll in them and coat with bread crumbs. Deep fry these in hot oil. Serve.