Recipe Taste
Not Specified
Yield / Serves
4 Servings
A healthy and delicious Biryani with vegetables and rice.
1 cup Mixed Vegetable ( paneer, potato, carrot, french bean, cauliflower)
2 Finely Sliced Green Chillies
1 tsp Ginger garlic paste & Salt to taste
3 - 4 Cinnamon(dalchini), 1/2 Spoon Cumin Seeds (Jeera)
1/2 tsp Black Pepper Powder
Few cashew nuts chopped mint and coriander leaves
Chop all the vegetables and paneer. Thinly slice onions and fry them in oil to make the fried onions, set aside.
Heat oil in a pan; add the dry spices except jeera . Saute till you get an aroma. takes around a min, do not burn.
Add ginger garlic paste and fry till the raw smell goes off.
 Add potatoes and fry for 3 to 5 mins.
Add the rest of the vegetables and fry for 2 to 3 mins. I have not used cauliflower
Add turmeric, salt, red chili powder and biryani masala powder fry till it turns aromatic for about 2 to 3 minutes 
Let the vegetables cook and add yogurt set aside rest of the yogurt for further use.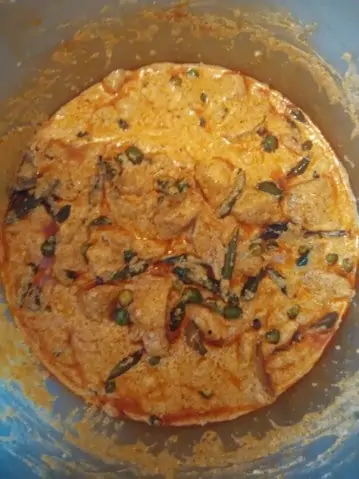 In a large pot, bring 5 cups of water to boil, add oil, salt, jeera and rice. Adjust the salt.
 Cook this rice till it is ¾ done. drain off the excess water and set aside
Transfer half of the cooked veggies to a dum biryani pot or pressure pan or your dum biryani utensil set aside half of the veggies
 Add layers of rice then fried onion and cooked vegetables (Repeat till 2-3 layers are made and your pot is full)  
Add nuts, chopped mint and coriander leaves at top layers_x000D_
Begin to heat an old heavy bottom tawa and proceed with the next step
Pour saffron milk cover the pan with 2 thick moist kitchen towels. Place the lid and a heavy object on the lid. Or you can make dough made of wheat flour. Moisten the rim of the pan, place this dough around the rim and place the lid over it. Press the lid tight so that it sticks to the dough tightly and no steam vents out. I do not prefer to do this as this mess up the pan and cleaning is a great pain. 
Move this pan to the hot tawa, cook on medium flame for 5-10 mins & set the flame to low cook this way for 10 - 15 mins.
How useful was this post?
Click on a star to rate it!
Rated 3.8 based on 12 votes
Be the first to rate this post.