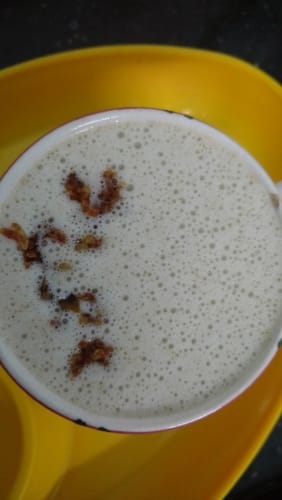 Vegan Oats Smoothie
During weight loss we have to make ourselves hydrated with lots of liquid n also make our tummy happy by keeping it full with fiber n other nutrients. So to fulfill both the needs here is the combination of oats and dates in the form of smoothie. When u drink this ur tummy will be having the that feeling of "being full" for longer period.
Ingredients
Oats 5tblsp

Dates deseeded 5-6

Soya milk as needed

Hot water 3tblsp

Ice cubes as needed
Instructions
Soak oats in hot water for 2 min. Remove the seeds

Now grind the dates with little water. Now add oats n grind.

Next add ice cubes n give a pulse. Finally add milk n grind a little. Chill chill smoothie is ready to make ur tummy happy.
Notes
Can use any milk
Soaking oats is optional but according to me that raw smell goes n give a good smooth texture.
Can add honey for extra sweetness