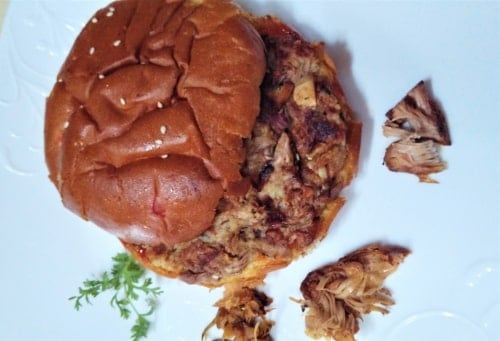 Vegan Bbq "Pulled" Jack Fruit Burger
25 July, 2017
Vegans are going crazy about jackfruit. Yes, jackfruit is a fruit as it has seeds but that's not the reason for the world going gaga about this fruit which is mostly cooked as a vegetable. The reason is when cooked, it has a "Pulled" thread like texture which is moist and gives the feel of BBQ "Pulled" Pork. It can replace the pork, tuna or crab for that matter in your burgers and sandwiches. Confused how? Well, we show you a simple Vegan jackfruit pulled pork burger for your Vegan party. Canned version of jackfruit is readily available in most of the super markets but to get the most benefits and the real taste, go for fresh, young and green jackfruit.
Ingredients
Shredded Jack fruit 1 cup

Shredded Cabbage 1/4 cup

Lemon juice 2 tsp

Black pepper 1 tsp

Brown sugar 1/4 tsp

Barbecue sauce 1/4 cup

Olive oil as required
Instructions
Cutting jackfruit is an art and each flower along with the seed should be cut separately. Remove the seeds for this recipe. The seeds can be fried as sides.

Boil jackfruit in a heavy bottom pan. Make sure it just becomes tender and not over cooked. Drain the water and let it dry for sometime.

Shred jackfruit with hand or the fork so that each thread is pulled out and season it with barbeque sauce.

Shred cabbage and add to the shredded jackfruit and let it rest for 10 minutes.

In a heavy bottom pan, put 2 teaspoons of olive oil and fry the jackfruit seasoned with barbecue sauce. Saute it till it turns light brown.

Add brown sugar and freshly grounded black pepper and give a stir. Let it cook for few minutes so that brown sugar melts and black pepper infuses well.

Switch off the stove and drizzle lemon juice. Give the patty shape or just use it for filling.
Notes
You can also try other Vegan Jackfruit recipes – Vegan Jackfruit Salad, Vegan Jack fruit Fried Rice, Vegan Jackfruit Soup
About the Author: This Recipe has been shared by home chef Geeta Biswas who's simple yet experienced home maker. She feels that just like kids grow up with their toys, in the same way, she had grown up with her recipes. Ingredients are her tools and she loves making innovative recipes which have built up her identity.