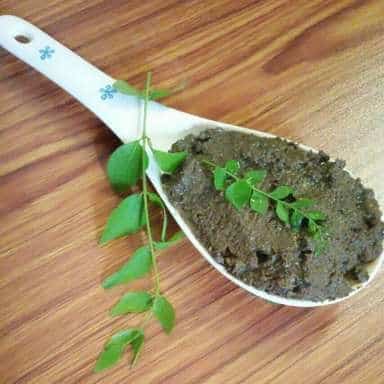 Usirikaya Pachadi / Dry Gooseberry Pickle
30 May, 2017
As Amla has various health benefits , I prepared a recipe often suggested by my grandmother.This is a preserved version of amla/gooseberry pickle. This pickle is mixed with plain steamed rice and consumed as a first course of meal.
Ingredients
Dry Gooseberry /Amla - 2 cups

Water - To soak the amla

Salt - 3/4 cup

Asafoetida - 2 pinches

Green chillies - 3

Cumin seeds - 1/4 teaspoon

Black gram - 1 teaspoon

Coriander seeds - 1/4 teaspoon

Bengal gram dal - 1 teaspoon

Mustard seeds - 1/4 teaspoon

Fenugreek seeds - 3/4 teaspoon.

Curry leaves - For seasoning

Oil - 2 tablespoon.
Instructions
Soak the amla/ gooseberry in water for 8 hours.

Drain the water and grind the amla along with salt into a fine paste. Store this in a jar.

To prepare for few servings, heat oil in a pan. Add all the above listed spices and saute them till they turn light brown.

Switch off the flame and grind it into a powder. Take small amounts of the preserved pickle and add this to the grounded powder. Blend this again into a fine paste.This can be stored for a month or so.

Serve with hot steamed rice by pouring warm ghee.