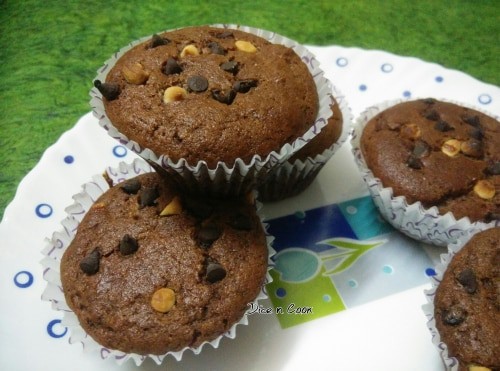 Triple Delight Banana Cup Cakes
3 April, 2017
Its a triple delight cupcakes for kids and elders.. It's smooth in texture, very moist and melt in mouth and eggless. Banana and whole wheat flour make a good combination.
Ingredients
White and dark chocolate chips-1/4 cup

Dark chocolate pieces -1/3 cup

Cocoa powder- 1/3 cup

Whole wheat flour- 3/4 cup

Powdered sugar - 1/2 cup

Baking powder- 1/2 tsp

Baking soda -1/4 tsp

Salt-1/4 tsp

Vanilla essence- 1/2 tsp

Curd -1/2 cup

Odourless oil or refined oil-1/4 cup

Banana puree- 1/2 cup
Instructions
Preheat the oven at 180°C for 10 mins. Sieve together whole wheat flour, baking powder, baking soda, cocoa powder, salt for 6-8 times.

Mix the wet ingredients curd, banana puree, oil and vanilla essence. Add powdered sugar to this and mix well.

Now add the dry ingredients to wet ingredients and fold gently. Drop in chocolate chunks into the batter.

Now add the batter into paper cups lined cupcake trays until 2/3 of cup. Add the flour coated choco chips and bake in preheated oven for 25 mins.

Cool on wire rack and serve with a scoop of vanilla ice cream
Notes
Temperature, time settings depend on individual oven. So care to be taken not to over bake the cupcakes.
Over ripen banana is used in this recipe. Small chunks of banana can also be added