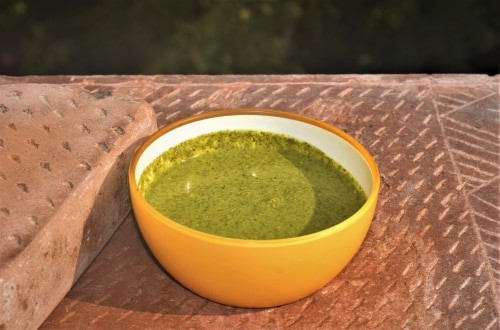 Traditional Uttaranchal Bhang (Hemp) Chutney
10 August, 2017
Locally called as Bhaang or Bhangjure these seeds can only be found in Uttranchal. They look like tiny mustard seeds and well-known ingredient of Uttranchal. The chutney dish can be served at any time of the day. The taste of chutney is completely different from the normal chutney. It's call bhang because if you eat once you will become habitual of it because of its taste, it doesn't contain any drugs or has nothing to do with the drug Hemp - says Chef Dheeraj Bhandari who hails from Uttaranchal and is trying to bring the lost recipes of Uttaranchal.
Ingredients
Bhaang

Hemp seed 50 grams

Green chilly 02 pieces

Lemon juice of 01 lemon

Mint leaves 40 grams

Tomato 02 pieces

Salt as required

Water as required
Instructions
Heat a pan on low flame adds your bhaang (Hemp) seeds.

Roast bhang seeds till the aroma comes out from seeds and keep aside.

Now take tomatoes and roast them on fire to burn the outer skin but don't remove skin. It will give smoky flavor and taste to our chutney.

Clean your mint leaves remove all the stalks.

Use traditional sil batta or mixer. Grind roasted tomatoes, bhaang seeds, green chili and mint leaves to a smooth texture.

Use water as per requirement.
Notes
About the Author: This Recipe has been shared by Executive Sous Chef Dheeraj Bhandari. Chef Dheeraj is a passionate Indian chef, TV show host, food stylist, blogger. He started his career in 2003 with The Claridges Hotel New Delhi at Abdul kalam road. He brings over 13 years experience at five-star hotels and luxury ships such as the Eros Intercontinental, Star Cruises, Royal Caribbean cruise liner and Google Gurgaon. Chef Dheeraj Bhandari presently working at MOSAIC HOTEL MUSSOORIE as an Executive Sous chef managed by Tux hospitality Shipra groups of hotels.