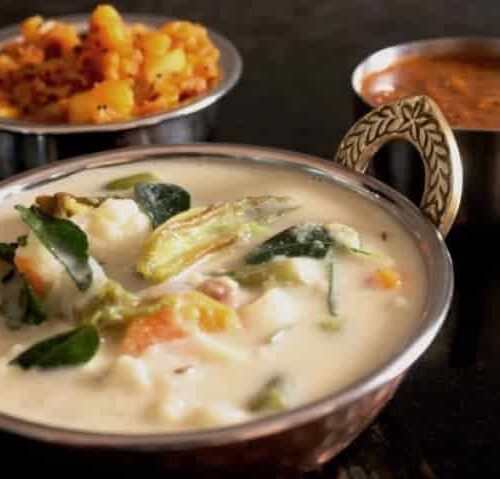 Tirunelveli Sodhi Kuzhambu (Cream Of Coconut Milk With Vegetables)
Here is the simple, step by step recipe of An age old, traditional, iconic recipe of Tirunelveli people. It is the mandatory item to be served in the feast made on the next day of marriage and the people never miss to have this next day feast for this tasty and delicious gravy. The sodhi kuzhambu mesmerizes you when had with potato fry and ginger curry. Most of the Restauraunts here offer this atleast once in a day with the regular melas. Since it is a rich gravy made full of coconut milk and served with spicy and hot potato curry, Inji pachadi (Ginger curry) is also served along with this as side dish to enhance digestion and feel light...
Ingredients
Coconut shells 3

Boiled moong dal fom 3 tb spoons of moongh dal

Ginger juice taken from 25 gms of ginger

Slitted green chillies 7

Shallots 10 Garlic pods 10

Cauliflower flourets 5 or 6 Few pieces Chopped vegetables like beans

carrot, potato, drumstick

Lemon 1

Salt to taste

Butter beans and green peas if available
Instructions
Shred the coconut . Add some water grind well. Take 200ml of thick coconut milk , keep aside. Put the reside into the blender, add water and take out. Pour some more water into the stuff and take thin coconut milk of 750 ml .

Pressure cook the moong dal to soft . Now Keep a broad pan on the stove and pour 2 tea spoons of oil. Fry the green chillies, shallots and garlics for few minutes in low flame.

Then add other vegetables and stir well. Pour the second thin coconut milk . Let the vegetables boil well till becoming soft. Once the vegetables are well boiled add the moong dal into it and wait till it boils for 2 more minutes.

Switch off the stove. Add required salt, thick coconut milk, ginger juice to it and mix well. Squeeze a full lemon into it.

Keep the sauteing pan on the stove and in a tea spoon of oil do the seasoning with curry leaves&cumin seeds.
Notes
Adding Salt, ginger juice, thick coconut milk, lemon and sautéing all this should be done only after switching off the stove.
Mix this with hot steaming rice and relish with potato crisps or fry and ginger curry as side dish.