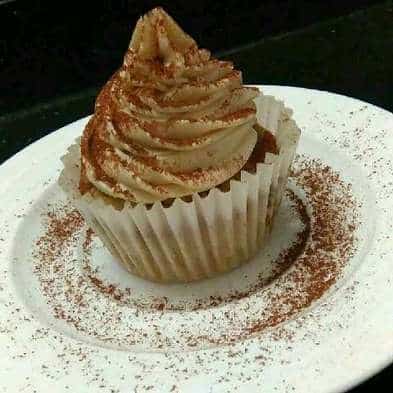 Tiramisu Cupcakes
20 November, 2017
These tiramisu cupcakes are a take on the classic Italian dessert. It combines the essential flavors found in a real tiramisu dessert: chocolate, coffee and creamy mascarpone (substituted here with cream cheese) so you can have the full experience in form of an adorable looking cupcakes.
Ingredients  
Thick yogurt 2.5 tbsp

Sugar 2 tbsp

Oil 1 tbsp

Vanilla essence 1/2 tsp

All purpose flour 3.5 tbsp

Cornflour 1 tsp

Baking powder 1/4 tsp

Baking soda 1 pinch

Salt a Pinch

Instant espresso powder 1/2 tsp

Warm water 1 tsp

Cream cheese 1 cup

Butter 40 gm

Icing sugar 1 cup

Vanilla essence 1/2 tsp

Coffee concoction 1/2 tsp

Chocolate ganach 2 tsp

Coffee sugar syrup 2 tsp
Instructions 
Dissolve instant espresso powder in warm water, set aside.

beat curd, sugar and oil till creamy.

add diluted instant espresso and vanilla essence to this curd mixture and mix well.

sieve all the dry ingredients of cupcake. gently fold the dry ingredients in to curd mixture.

Divide the batter into two cupcake moulds and bake at 180 C for nearly 20 minutes.

Mocha cream cheese icing- Beat butter and icing sugar till creamy. add cream cheese, vanilla essence and coffee concoction and beat again for 5 minutes.

once the cupcakes cools down, using a small melon baller, scoop out center of each cupcake. Fill the center with chocolate ganach and pipe mocha cream cheese icing over this ganach filled cupcakes. sprinkle some cocoa powder on top of icing.