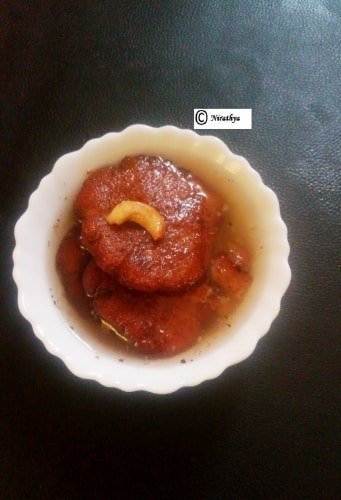 The name sounds interesting! Isn't it ? Coming to the story behind the name of the recipe. It is named by my daughter 🙂 . "Tinkara" is a healthy, scrumptious dessert with a crispy texture outside and soft inside. The rich flavor of honey can be enjoyed in every bite of Tinkara.
Ingredients
For Tinkara Dough - Whole Wheat Flour - 1 cup

Rice Flour - 2 tablespoon

Honey - 1/2 cup

Grated tofu-1/4 cup

Soy Milk powder / any milk powder - 1 tablespoon

Semolina / Sooji

Rava - 1 tablespoon.

Oil for deep frying.

For Garnishing : Cashew nut - As required

Ghee / Clarified Butter - 1 tablespoon.

For Sugar Syrup : Sugar - 1/2 cup

Water - 1/2 cup

Cardamom powder-1/4 teaspoon

Black pepper powder

optional - 1 or 2 pinches.
Instructions
Heat ghee in a pan. Fry the cashewnuts until they turn slightly golden in color. Keep it aside.

Preparation of Tinkaras - Take a bowl. Mix the above ingredients except oil ( as mentioned in Tinkara dough preparation ) well to form a firm dough.

Allow it to rest for 10 minutes. In the meanwhile ,heat oil in a pan over a low flame.

Now take the dough. Make small lemon size balls out of this. Press each ball on your palm with the help of your thumb to get patties shaped Tinkaras.

Drop them in oil . When one side of the tinkara turns into golden brown then carefully fry the other side also.

Similarly fry all the coin shaped tinkaras carefully over a low to medium flame.

Preparation of Sugar Syrup - Heat a heavy bottomed pan. Add sugar and pour water to it. Over a medium flame , boil it for 10 minutes or until one string consistency like gulab jamun syrup is formed.

Sprinkle one pinch of black pepper powder and 1/4 teaspoon of cardamom powder to it.

Dunk the Tinkaras in the sugar syrup until they absorb the syrup well.

Garnish with fried cashews. Drizzle a teaspoon of honey over it ( only if needed) .

You can either serve these tasty tinkaras chilled or warm.