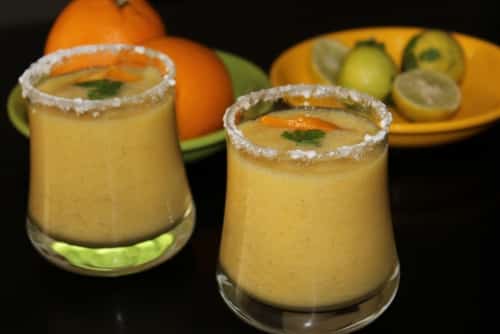 The Wake Up Drink
8 August, 2017
There are some people who love to wake up early and some lazy ones who love sleeping more than anything else!However waking up is mandatory for our bodies to start working and building stamina.In the morning everyone needs a "kick" or a motivation to start the day.This drink will do just that.Let me explain how: These are the fruits included: 1.Orange 2.Banana 3.Musk Melon/Cantaloupe 4.Coriander Stalks
Ingredients  
4

ripe Oranges

any variety

1

ripe Muskmelon/Cantaloupe

Hindi – Kharbooza

2

ripe Bananas

2

tbsp

Honey

1

tbsp

coriander stalks

For preparing the glasses:

1/2

a Lemon slice

2

tbsp

powdered sugar

4-5

Coriander leaves for garnishing
Instructions 
Peel and segment the Oranges.Peel and remove seeds from the melon and cut into pieces.Peel Bananas.

Extract juice from the melon and then from the Oranges and coriander stalks.Strain the juices in a jug and in a blender pour both juices,honey(if using) and the Bananas and whiz to get a nice and smooth drink.

Rub the rim of the glasses with lemon juice.Take the powdered sugar on a small plate and invert the glass on the sugar so that it sticks to the rim.Remove and keep aside.
Notes
Benefits of each ingredient :
1.ORANGE
Oranges are one of the best and cheapest sources of Vitamin C. Human bodies, unlike many other animals, do not manufacture Vitamin C, so a human needs vitamin C in their diet regularly. (Vitamin C helps the body to grow, to heal wounds and fight infection.) Oranges are also a very good source of dietary fibre.
2.BANANA
Bananas are an excellent source of Vitamin B6 and contain moderate amounts of vitamin C, manganese and dietary fibre.
3.MUSK MELON/CANTALOUPE
Musk and cantaloupe melons provide loads of nutrition with less calories and are an excellent source of Vitamin Aand C.
So we get a power packed Vitamin C booster which will keep us on our toes the whole day and be nutritious as well!There is honey included in the recipe which is far more better than normal refined sugar.However you can suit your taste and if all fruits are sweet not add any sweetener at all!
4.CORIANDER STALKS
Do not throw away the stalks when you use Coriander Leaves.Use them in this delicious drink and also for soups and stocks.