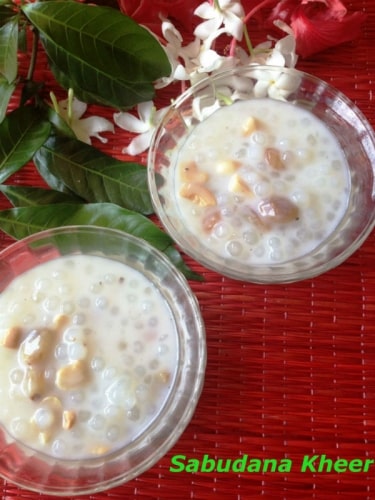 The 'Gentle' Sabudana Kheer
11 May, 2017
The softness of the sago complements the creaminess of milk, blending and swirling together, amplifying each other's flavor!
Ingredients
Instructions
Wash the sago and keep aside. Heat two cups of water in a bowl. Add the sabudana and let it cook. Ensure that you add sufficient water until the sabudana dips well in the water.

Stir lightly. After 2-3 minutes you will notice that the sabunana starts turning translucent.

Heat one teaspoon ghee, and add the cashew nuts. Fry for few seconds and keep aside. In another pan, heat another teaspoon ghee, and fry the raising for a few seconds. Keep aside. Ensure the raising do not get blackened or burnt.

Let it get cooked well. Once it is cooked, add milk, cashew nuts and raisins. And let the kheer simmer for 1-2 minutes. Add elaichi powder and mix. Put off the heat. Let it cool naturally for 2-3 minutes. Add sugar, mix and cover the bowl.

Savor this authentic homemade dessert either warm or cold.
Notes
 Do not overcook the sabudana.