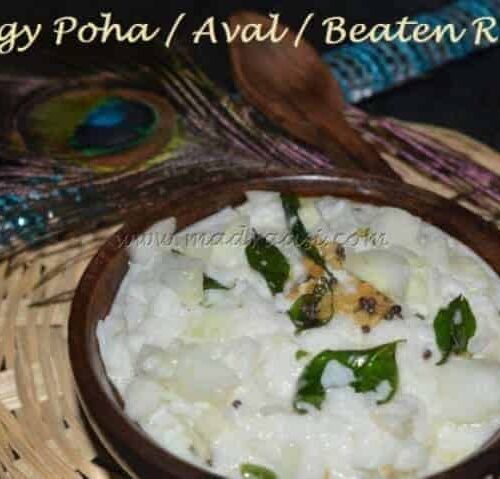 Tangy Poha / Aval / Beaten Rice
This recipe is completely different from all the other recipes, all the others were savory or sweet. But here I have mixed curd/yogurt and green chilies with poha/aval and so it has both sour and little spicy taste. This dish is good for summers. I have made this as an offering to Lord Krishna for Krishna Jeyanthi / Janmastami / Gokulastami. Let us move on to the recipe…
Ingredients
• Aval / Poha / Beaten Rice – 1 cup

• Curd / Yogurt – ½ cup

• Green chili – 1 no

• Mustard seeds – ¼ tsp

• Split Blackgram – ¼ tsp

• Cucumber – 1 no

• Asafoetida /Hing / Perungayam – a pinch

• Curry leaves – a sprig

• Salt to taste

• Oil – a tsp
Instructions
•Soak the aval/poha in water for 5 mins.

•Finely chop the green chilies, peel and finely chop the cucumber.

•Heat oil in a kadhai, add mustard, black gram, asafoetida, green chili and curry leaves. Wait until they crackle.

•Meanwhile beat the curd/yogurt and keep it aside.

•Drain the water from the soaked poha/aval, transfer it to a bowl, pour in the curd/yogurt with little salt.

•Mix them well. Add in the finely chopped cucumber and give a stir.

Serve after lunch or during lunch, good for summers.