Tandoori Paneer Frittata In Tart Shells
Recipe Taste
Not Specified
Yield / Serves
2 Servings
Desi flavor of Tandoori Paneer in Frittata, Baked in Tart Shells.
Ingredients for Frittata-Paneer, 25 grams cubed
¼ teaspoon black pepper powder
A few tablespoons finely chopped vegetables like Capsicum, tomatoes etc
A few sprigs of green coriander leaves, chopped
¼ teaspoon Red chilli powder
¼ teaspoon tandoori Masala
1 teaspoon ginger garlic paste
For the shells-½ cup Maida
Ice cold water, as needed to knead a tight dough
For the Shells-Take the maida and add salt .
Add in 2 tablespoon oil and gently incorporate the oil into the maida, to resemble bread crumbs.
Using ice cold water, knead a very tight dough.
Cover and let it rest for 10 minutes. After 10 minutes, roll out 8 small, round Rotis. Grease the Tart Shells or Cupcake moulds. Prick the Rotis with fork all over, so that they don't swell up while baking.
Cut off the edges to get a neat , uniform look. Brush little oil on them. Bake in a preheated oven for 5 minutes at 180 degrees , with both rods on. Remove and keep aside.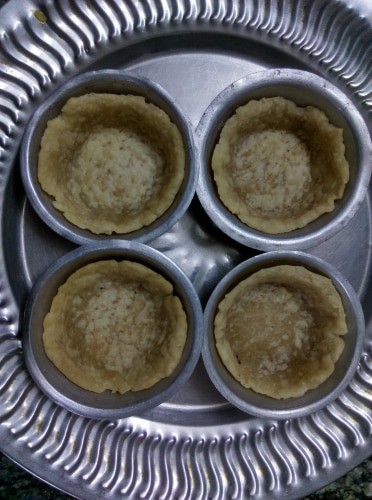 Take the paneer cubes and apply ginger garlic paste, red chilli powder, tandoori Masala, salt and keep for marinating in the fridge for 10 minutes. Remove and deep fry to golden brown.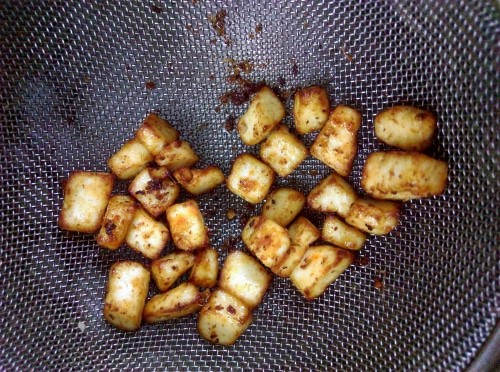 For the Frittata, in a big bowl break in the eggs. Add the grated paneer, grated cheese, salt, black pepper powder and whisk gently.
Put in vegetables of your choice. I added Capsicum,green coriander leaves, tomatoes etc.
Pour little mixture in each of the Tart Shells.and add in a few pieces of fried paneer cubes. Again, bake for about 10 to 15 minutes till the eggs are cooked well. Increase the temperature to 250 degrees for the last 5 minutes to get Brown crust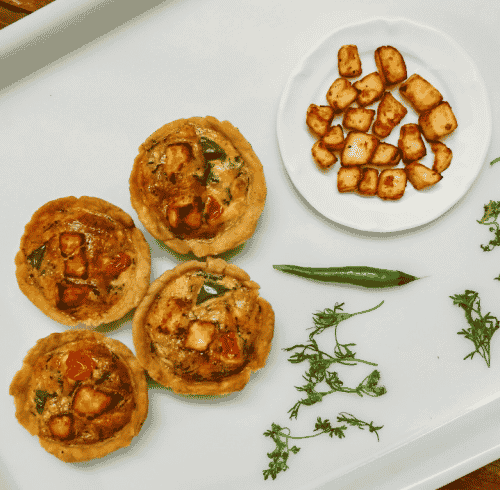 All ovens work differently, hence adjust time accordingly and keep an eye on so that they are not over cooked or burn.
How useful was this post?
Click on a star to rate it!
Rated 3.7 based on 3 votes
Be the first to rate this post.