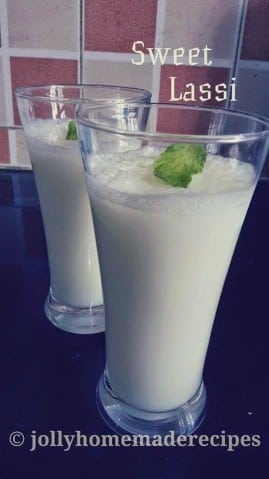 Sweet Lassi Recipe, How To Make Sweet Punjabi Lassi Recipe
27 May, 2015
Lassi is another cooling and refreshing drink to have in summers. Sweet lassi is quite popular in Punjab and North-India. This is best cool and refreshing rich drink for summers.
Ingredients
Chilled fresh curd/dahi or yogurt - 2 cups

Chilled water or milk - 1 to 1.5 cups

Sugar - 10 to 12 tbsp or add as per taste

Ice cubes

Mint leaves - few

for garnishing
Instructions
In a bowl or pan, take 2 cups fresh chilled yogurt. I used homemade curd.

Add 10 to 12 tbsp sugar or as required in dahi, now with the help of madani _x000D_ [ Madani is made of a long stick with a circular or star-shaped flat wooden disc at one end, used in back years] or blender or wired whisk just mix the curd till it become smooth._x000D_

Keep on churning till the sugar dissolves and you see a nice frothy layer on top.

The curd should be smooth, then add 1.5 cups chilled water._x000D_ _x000D_ Note : You can also add 2 cups chilled milk, instead of water. the consistency of this lassi is neither thin nor thick. if you want a thick lassi, then add 1 to 1.5 cups water.

Now churn the madani in the lassi mixture. Keep this lassi in a fridge to chilled before serving lassi don't add ice cubes.

Serve sweet punjabi lassi immediately, adding ice cubes. Garnish with mint leaves.