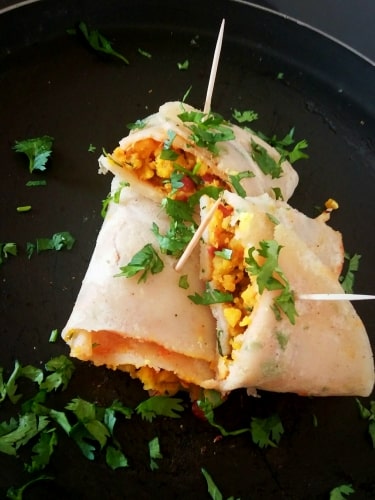 Suji Raw Banana Dosa
24 February, 2018
Suji ka chila, dosa it's a very common and known recipe but very delicious whenever you make. The main part of it is this raw banana which make them more delicious.
Ingredients
Semolina/rava/suji -2 cups

Curd/butter milk/chas -2 and 1 /2 cup

Salt to taste

Raw banana masala -2 cups

Black mustard seeds -1/2 tsp

Cumin seeds 1/2 tsp

Oil as required

Garam masala powder 1/2 tsp

Lemon juice 1/2 tsp

Coriandre 1/2 cup
Instructions
Take the semolina in a mixing bowl Beat the curd to make it smooth. Mix the curd in semolina. Add salt and coriander

Raw banana and add masala, salt and mix. Now leave the batter to rest for 30 minutes.

Now heat 1 tbsp oil in a small pan.And temper it with black mustard seeds,cumin seeds , onion and saute for minut

Spread it with a spoon in the round shape

Apply some oil all over it(about 1 tsp).

Now flip it

Now remove it from the pan.