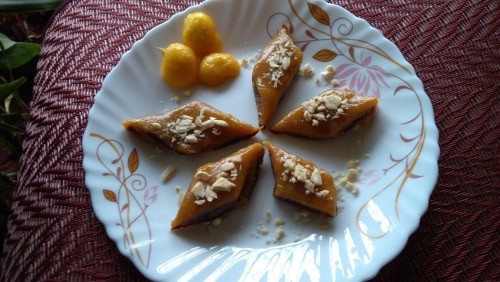 Stuffed Mango Kaju Katli
12 March, 2018
Kaju katli is a popular Maharashtrian melt in mouth dessert available in most of the part of the India. The Main ingredient is the cashew nut and can be prepared in different ways. Here I have given a twist using Mango pulp and prepared Mango Kaju Katli stuffed with rich coco dry fruits mixture which has given an amazing taste to Mithai.
Ingredients  
Fresh Mango Puree – 1cup –

Alphonso Mango

Cashew nuts Powder – 1 ½ cup

Paneer

crumbled – 1cup

Milk powder – 1cup

Sugar – ½ cup

ghee to grease the tray – 1tsp

For Stuffing – Dates – 6-7 no's Deseeded

Roasted Cashew nuts – 10-12

Roasted Almonds – 10-12

Raisins – 2tbsp

Unsweetened Cocoa powder – ½ tbsp.

For Garnishing – Finely chopped or sliced Cashew nuts and pistachios – 3-4 tbsp

Mango slices
Instructions 
Heat nonstick pan, add Mango puree. Cook it for 5-8 minutes.

Add crumbled paneer, Sugar. Stir and cook till sugar melts.

Add cashew nuts powder, milk powder. Mix thoroughly until mixture incorporates well.

Keep stirring the mixture on low flame till most of the moisture evaporates and a solid mass remains. It takes approx. 15-18 minutes.

For Stuffing - In a blender, blend dates, roasted almonds, Cashew nuts, raisins until smooth mixture. Add unsweetened coco powder. Mix well.

Grease aluminum tray with ghee, pour half mango mixture into tray. Level the surface with the help of rubber spatula

Now spread the coco dry fruits mixture equivalently all over the mango mixture.

Cover dry fruits mixture with remaining mango mixture. Flatten the same with rubber spatula.

Garnish the top with thinly sliced or finely chopped cashew nuts and pistachios. Allow it to cool completely till set or keep it into the refrigerator. Cut into desired shapes and serve.

Store it into airtight container and transfer to refrigerator.
Notes
Mango Pulp should be fresh and sweet.
Instead of Paneer, Mava can be also be used.