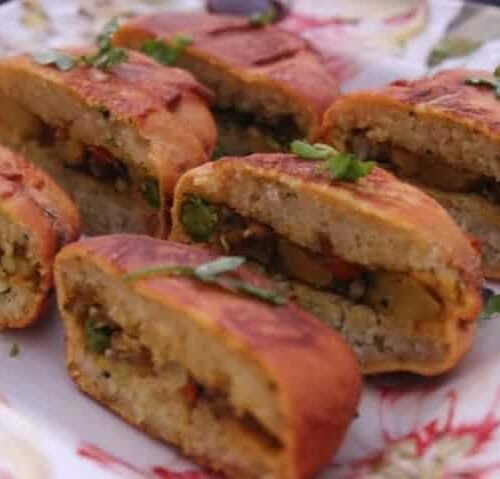 Stuffed Idli Pakodas
Ingredients
For Idli : Rice - 2 Cup

Washed and soaked in water overnight

Split Black Gram Skinless

Urad Dal dhuli – Washed and soaked in water overnight - 1 Cup

Ghee – for greasing the tray

Salt – to taste

For Stuffing : Onion – 1

chopped

Cumin Seeds – ½ tsp

Green Bell Pepper – 1

chopped

Green Peas – 3 tbsp

frozen

Carrot – 3 tbsp

chopped

Beans – 2 tbsp

chopped

Cabbage – 2 tbsp

shredded

Potato – 2

boiled and mashed

Salt – to taste

Green Chillies – 2

chopped

Black Pepper Powder – ½ tsp

Few Coriander Leaves – Chopped

Lime Juice – ½ tbsp

Turmeric Powder – ½ tsp

Oil – 1 ½ tbsp

For Pakodas : Besan – 2 Cup

Salt – to taste

Oil – to deep fry
Instructions
For Idli : Drain and grind the rice to a slightly coarse texture and dropping consistency.

Drain and grind the dal, sprinkling water as required to a smooth and spongy batter. Mix both batters together.

Add salt and set aside in a warm place for 8-9 hours or overnight for fermenting.

Mix well and grease the idli holder or pan well and fill each of them with 3/4th full of batter.

Steam cook idlis on medium flame for about 10-12 minutes or until done.

Use knife (greased with ghee) to see whether idlis are done.

For Stuffing : Heat oil in a pan and add cumin seeds.

Once cumin seeds starts crackling add chopped onions and saute until translucent.

Add all chopped vegetables except potato. Saute for 8-10 minutes or until they are cooked.

Add turmeric powder, salt, green chillies, black pepper powder, lime juice, boiled potato and coriander leaves. Mix well and saute it for another one minute.

For Pakodas : Slice each idli from the centre into two halves

Spread the mixture on one half and cover it with the other half.

Do this with rest of the idlis and keep them aside. Now make a batter of medium consistency using gram flour, salt and water

Heat oil in a kadhai. Now dip the stuffed idli one by one into batter and deep fry until golden brown and crisp. Keep them on a paper towel.

Cut the idlis into half and serve hot with any sauce or chutney.
Notes
I have not added soaking time and fermentation time in preparation time.
you can add / less vegetables as per your choice.