Strawberry Chocolate Cake Valentines Day
Yield / Serves
3 Servings
Valentine's Day without strawberrry and chocolates is incomplete, so a beautiful dessert is here to enjoy with your valentine.
1 packet of ready made cake mix
Warm milk - around 1 cup you can add more if needed
For icing Fresh strawberries - 11 to 15
Fresh whipped cream - 150 grams
Grated chocolates and strawberries for garnishing
Make sugar syrup by adding 1 cup of water and 1 cup of sugar by boiling the water.
Take a bowl add cake mix,butter,warm milk. 2. Mix it very well it should be lump-free. 3. Preheat the oven for 3 to 5 minutes and pour the mix into a mould and bake in microwave for 5 to 6 minutes.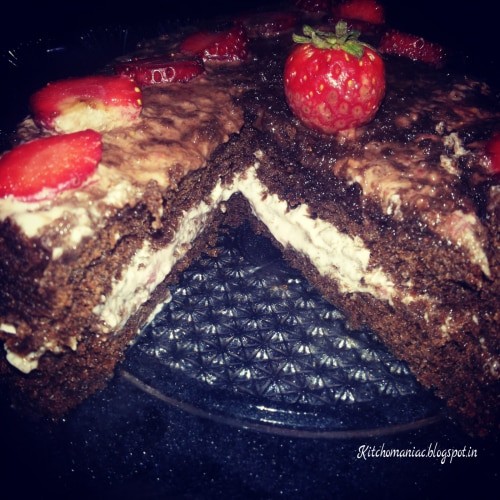 haven't used convection mode microwave so kindly check your cake in between by pricking a tooth pick,if the tooth pick comes out clean then your cake is ready. 5. You can bake more if it is not ready.
Demould the cake and let it cool for few minute 7.Pour the sugar syrup on the whole cake properly and with the help of a fork prick it on the cake, so that the syrup should enter inside the cake.
For icing 1.Take a grinder add strawberries and sugar in it grind it properly.Keep aside. 2. Take the whipped cream add strawberry mix into it stir it slowly.
Cut the cake from between spread the strawberry mix on the cake. 4.Put the layer back on the cake. 5.On the top do the icing again and garnish it with fresh strawberries and grated chocolates.
You can also add whipped cream with melted chocolate icing(as per your choice)
How useful was this post?
Click on a star to rate it!
Rated 4 based on 2 votes
Be the first to rate this post.