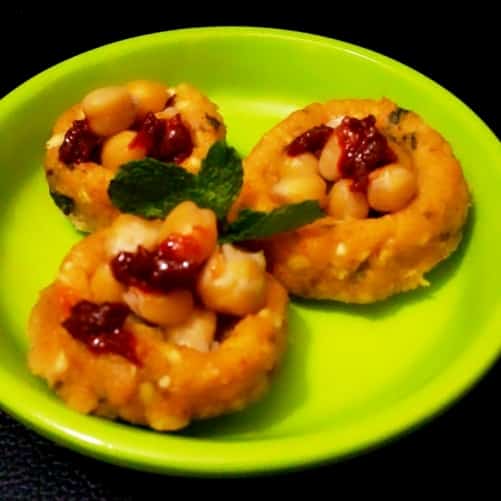 Steamed Grains - Veg Baskets
13 March, 2017
Steamed Grains - Veg Baskets recipe is my mother's brainchild. It is a healthy and gluten free food. The white chickpea and the grains used in this recipe have wide health benefits. These Steamed Grains Veg Baskets are loaded with fiber and proteins that are required for a balanced diet. Steamed food retains the taste and the nutritional value that is extremely good for children. The appearance of these baskets would snatch the attention of the kids 🙂
Ingredients
For the baskets: 1. Bengal gram dal- 1/2 cup

Red Gram- 1/2 cup

Moong dal

Yellow or Green gram- 1/2 cup

Salt to taste

Finely chopped green chillies - 1 teaspoon

Finely minced ginger - 1 teaspoon

Cumin seeds - 1 teaspoon

Chopped mint leaves - as per taste

Finely chopped onion- 1 tablespoon

Cloves- 2

For the filling: 1. Soaked and boiled white chick peas- 1/2 cup

Salt to taste

Vegetable oil/ Clarified butter to apply on the idli trays
Instructions
Soak the bengal gram dal, moong dal (yellow) and red gram in water for 1 and 1/2 hours. After this time, drain the water completely and make a coarse paste of it .Now add salt to taste, mix it thoroughly and keep it aside.

Grind the cumin seeds, chopped ginger, cloves and mix this in the prepared coarse paste of dals.

Mix the finely chopped onion, finely chopped green chillies, chopped mint leaves into the above prepared coarse mixture.

Now prepare the baskets carefully, take small portions of the coarse wada mixture and form them into circular shapes or in the shape of small bowls. (Note that the base and walls of the basket should be thick.)

To prepare the filling, soak the white chickpea for 1 and 1/2 hour. Then pressure cook it till 2 whistles blow. Once it is boiled, drain the water and add salt to the chickpeas. Mix it well together.

Now fill the veg baskets with the cooked white chickpeas.

Next, add water in the idli container for steaming. Apply vegetable oil to the idli trays and steam the veg baskets in the idli container for 15 minutes.
Notes
Drain the water so as to form a coarse paste. One can also add sprouted moong beans for the filling. You can also temper the mustard seeds and mix it to the filling.