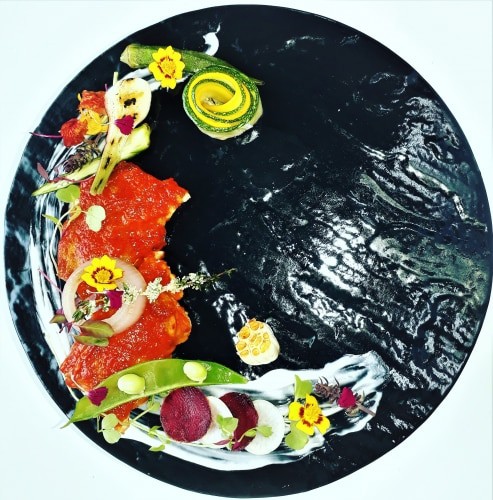 Sriracha Honey Chicken
Hot and spicy Sriracha Honey Chicken is crazy and forgiving chicken recipe which can be baked, grilled or made over the skillet. It is a simple tasty and quick comforting chicken dish which can be served for Dinner. Enjoy it just like that or with a bowl of rice. This is one of the best chicken dinner recipes. Combination of sweet and spicy taste in one dish is going to open all your palate senses.
Ingredients
Chicken thigh boneless – 250gm

Olive Oil – 30ml

Sriracha sauce – 200ml

Chopped thyme – 5gm

Maple syrup/Honey- 20gm

Garlic paste -30gm

Salted butter- 20gm
Instructions
In a bowl add sriracha sauce, thyme, maple syrup/ Honey, garlic paste and salted butter.

Mix well using whisk.

Prick chicken thigh all over using fork and marinate it in half of the sauce prepared for 2hours.

In a pan heat oil.

Sear chicken thigh from both the side.

Arrange thigh on greased baking tray and brush remaining sauce on it.

Bake in oven for 8mins at 160 degree.

Once it gets cooked arranged on plate and serve with some exotic vegetables of your choice.
Notes
About the Author: Chef Altamsh Patel is known for his delectable Japanese and western cuisine. He has showcased his talent right from his hotel management training days. He also conducted a session on Japanese and Thai Cuisine at Amul MasterChef India Season 5 and is currently a member of Western India Culinary Association, Indian Federation of Culinary Association and World Association of Chef Society.
You can follow him at his Plattershare profile and Facebook Page