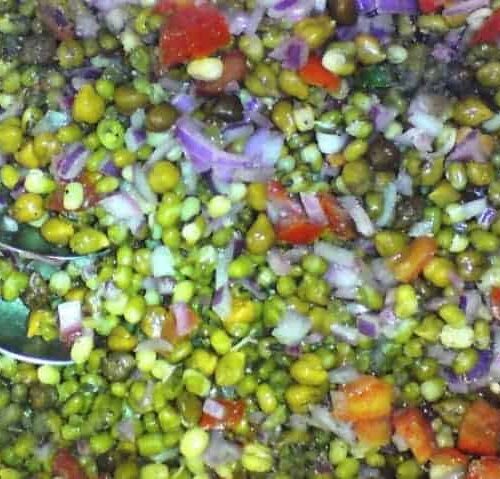 Sprouts Masala
1 May, 2014
Ingredients
Moong beans – 1 Cup

gm

Kaale Chane – 1/2 Cup

Tomato – 1 large

Onion – 1 large

Lemon Juice – 2 Table spoons

Green Chilly – 2 thin and small

Vegetable Refined oil – 1 teaspoon

Cumin Seed – 20 – 25 seeds

Salt – To taste

Black peppper – Pinch Full

Rock Salt – To taste
Instructions
Soak Moong beans and grams in a bowl. Let it soak in water overnight.Rinse water and wash with fresh water. Put it in a sprouter and leave it at room temperature for around 24 hours for the sprouts to grow.

Once you can see long white sprouts, take a frying pan and put one teaspoon of vegetable refined oil. Add cumin seeds and let it crackle.

Add the sprouts to the crackling cumin seeds. Pour a little water and cover with a lid. Leave it covered on sim flame for 5 – 7 minutes.

Chop onion, tomato and chilly finely. Add lemon juice and set aside in a bowl.

Once the sprouts are a little soft after 7 minutes take it off the flame. Mix the the finely chopped vegetables and soft sprouts.

Sprinkle Salt and pepper and here is the healthiest snacks ready to be served hot or carried to be eaten afterwards.