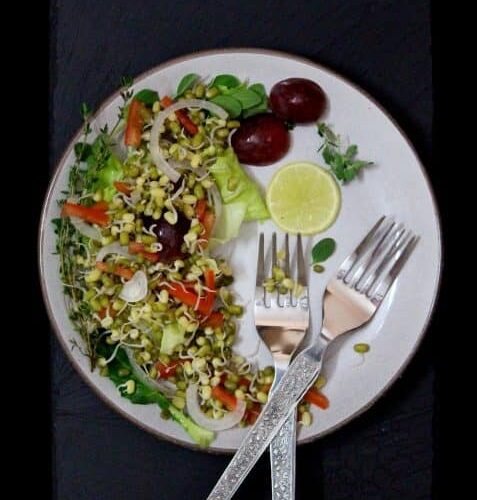 Sprout Bean Salad
17 August, 2017
Powerhouse of Nutrition. Yes it is !!!! Prepared with blanched sprouted Moong, lettuce, Deseeded tomatoes, Onions, Red Muscato grapes ,Green Chillies, Fresh thyme, Oregano , sprinkled with Chaat masala with a dash of Lemon Juice - Says Chef Reetu Uday Kugaji
Ingredients
Moong

Sprouted- 02 cups

Lettuce- 1/4th bunch

Tomatoes deseeded and chopped- ½ cup

Onion

sliced- ½ cup

Green chillies

deseeded and finely chopped- 02 nos.

Muscato grapes

red, cut into half and deseeded- 1/2 cup

Oregano

fresh- 02 sprigs

Thyme

fresh – 02 sprigs

For the Dressing:

Lemon Juice-02 tsp

Pomegranate juice

fresh- 02 tsp.

Chaat masala- 3/4th tsp.

Salt- To taste
Instructions
In a deep pan add water, let it boil, wash the sprouts and blanch them for 03 to 04 minutes.

Wash them under cold water.

In a glass bowl, mix all the ingredients mentioned from Lettuce to fresh thyme including the blanched sprouted moong.

Place in the refrigerator to chill.

In a small bowl mix all the ingredients mentioned for the dressing.

Just before service, add the dressing to the salad.Serve chilled / cold.
Notes
About the Author: This recipe has been shared by Chef Reetu Uday Kugaji who believes that food that she cooks should touch heart and soul of the person and she dedicates all her success to her Angel Mother.