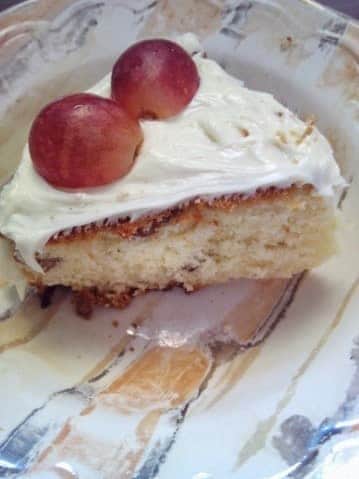 Nothing can beat the whiff of a nice pineapple flavored cake consuming the atmosphere of your home. Its hmmmmmmmmm Well after a lot of trials and errors - lets say about a 4-5 disaster cakes which was either too crumbly or sticky dough in the centre with the bottom almost burnt off. I finally nailed the all time favourite Sponge cake.
Ingredients  
1

large cup of Maida/All purpose flour - sieved

2

Eggs

100

gms Unsalted Butter

200

gms Castor Sugar

1

small cap of Pineapple/Vanilla Essence

2

tbsp

of hung curd

plain

Dry fruits of your choice

1

tsp

Baking powder

1

tsp

Baking Soda
Instructions 
Ensure that the butter is completely softened at room temperate and you have the castor sugar ready.

Add them to the blender and blend until they form a nice creamy consistency - this should take about 5 mins or so, depending on the speed your using. I generally vary it between 1-2

Add one egg and blend again, until a creamy texture is attained. Then add the pineapple/vanilla essence along with the second egg and beat until smooth and fluffy.

Sieve the flour along with Baking powder and Baking soda. And then , fold in the flour little by little and blend until it marries all the ingredients. By now you should be getting layered swirls.

Add the curd and the left over flour and fold in to the batter by whisking again.

Wet the nuts/dry fruits slightly and roll them in plain flour, this avoids it from settling at the bottom of the dough while baking. Add them to the dough and give a gentle stir by using a spatula.

This is the dough consistency you should be aiming for - stiff, yet soft and creamy.Go ahead lick some and check if the sugar is right.

Pre-heat the oven at 150C for 15mins. Grease the cake mould with some butter and pour the batter into it

Enjoy plain cake as a tea time addition or  the one with the frosting as a heart warming dessert.