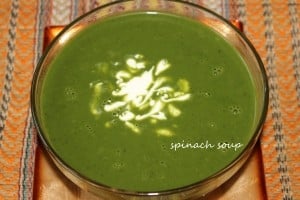 Spinach Or Palak Soup
11 November, 2016
Spinach or palak soup is a very delicious and nutritious soup made with spinach leaves, onions, milk cream, salt and pepper powder. It is very easy to make too and can be had at any time of the year. But its more comforting especially during rainy seasons or winter time. Spinach soup is a very popular soup in all Indian restaurants. Spinach is packed with iron, takes less time to cook and gives a good vibrant colour to soup.
Ingredients  
Spinach or palak leaves - 2 cups

chopped roughly

Onions - 1/4 cup

chopped finely

Cornflour - 1 tablespoon

Milk - 2 tablespoons

Butter or oil - 1 tablespoon

Pepper powder - 1/2 teaspoon

Salt to taste

Milk cream - 3 tablespoons
Instructions 
Heat oil or butter in a kadai on a medium flame. Add chopped onions and saute till they become translucent. Add chopped spinach leaves and saute for another 1-2 minutes till they become little tender.

Once the mixture is cooled down, grind this onion-spinach mixture with 2 cups of water in a blender or mixer to make a smooth puree. Strain the mixture with a strainer and transfer the spinach puree to a separate bowl.

Take a mixing bowl. Add cornflour and milk and mix well so that no lumps are formed. Keep it aside. Heat a non stick pan. Add spinach puree and cornflour milk mixture and mix well. Cook on a low flame for 2 minutes stirring continuously.

Add salt, pepper powder and milk cream and cook for another one minute. Remove from flame. Garnish with milk cream and serve spinach soup hot.