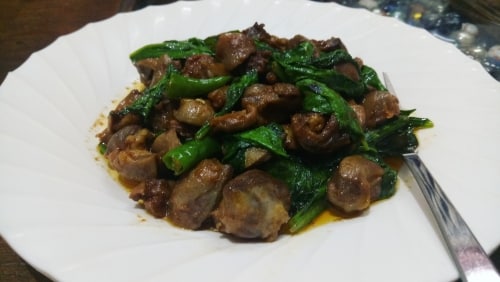 Spinach Gizzard - Palak Pota
A gizzard is an organ found in the digestive tract of a chicken. Similar to a stomach, the gizzard is used to grind up the foods the bird eats. You might shy away from eating a chicken gizzard, thinking it's best left for making gravy for a roasted chicken, but chicken gizzards are rich in nutrients, low in fat and often an inexpensive source of protein. Spinach is one of the vegetables that can be eaten with any dish so today I decided to prepare it with chicken gizzard. Quick an simple recipe which prepared with few ingredients like spinach and flavorful spices.
Ingredients
250

gm gizzard

cut into small pieces

15

nos fresh spinach leaves

Salt to taste

1

teaspoon

red chilli powder

4

spicy green chillies broken

1/2

teaspoon

garam masala powder

3

tbsp

cooking oil
Instructions
Wash gizzard in running water. Heat oil in wok, add gizzard, salt, red chilli powder, garam masala in heated oil and mix really well. Cover the lid n cook it for 20minutes on low flame. In between saute it for twice.

When gizzard cooked well add spinach leaves and green chillies. Mix it. Cover the lid and cook for another 5minutes till oil separate from gizzard in wok.
Notes
Do not chopped spinach leaves.
Whenever u saute gizzard while cooking cover the plate from your side coz it's crackling a lot.