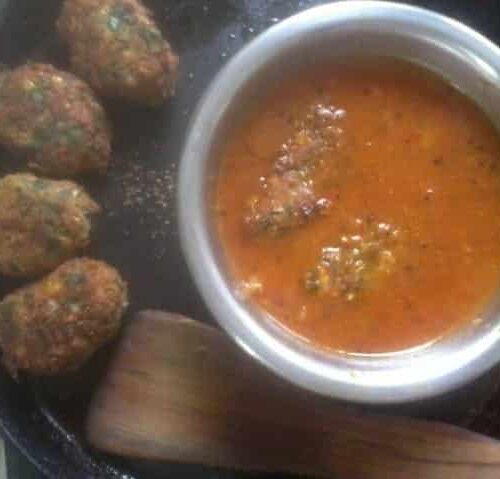 Spinach Corn Kofta Curry
12 June, 2015
Ingredients
Spinach leaves

1 bunch slight fine chopped

Corn kernels

1 small bowl

Oil

Chana dal flour/besan

2-3 tblspn

Rice flour

2-3 tblspn

Turmeric powder

haldi

Cumin seeds

jeera-half tspn

Red chilli powder

1 tspn

Breadcrumbs/Toastcrumbs

Mustard seeds

Garam masala

1-2 tspn

Garlic-ginger paste/wet masala

1 tspn

Onion

1 no chopped

Tomatoes

2 no medium-paste

Asafoetida/hing powder

Salt to taste
Instructions
Wash clean the spinach leaves,and chop slight fine and keep aside in a broad vessel.

Take the corn kernels and grind it slight. Avoid grinding completely paste like there should be some whole corn kernels.

Mix the spinach and slight ground corn kernels.

Add the cumin seeds,turmeric & red chilli powder. Also add the salt.

Add the besan and rice flour in equal proportions for binding. Make the mixture so that small balls of the mixture are able to form/made.

Heat oil for frying. Take breadcrumbs or you can crush 2-3 toasts to make toast-crumbs.

Make small balls or slight elongated shaped koftas,sprinkle breadcrumbs or toast-crumbs and fry from both sides till it is golden brown in color.

Make more koftas and keep aside. Take 2 medium tomatoes,grind to make paste.

Heat 1 tblspn of oil,add mustard & cumin seeds. After the seeds crackle add asafoetida/hing powder & saute.

Add the chopped onion,add the garlic-ginger paste/wet masala & saute for 2 mins.

Add the turmeric & red chilli powder saute for 2-3 mins. Add the tomato paste and saute for 2-3 mins.

Add garam masala and salt a little less than taste required as some salt already added in the koftas.

Add 1 cup water as we require thick curry. Or Add 2 cups of water and add 1 tspn of groundnut/shengdana powder to thicken.

Give the curry a boil for 5-8 mins and switch off the flame.

Add the koftas to the curry or serve separately as you would like to have. The spinach corn kofta curry is ready.