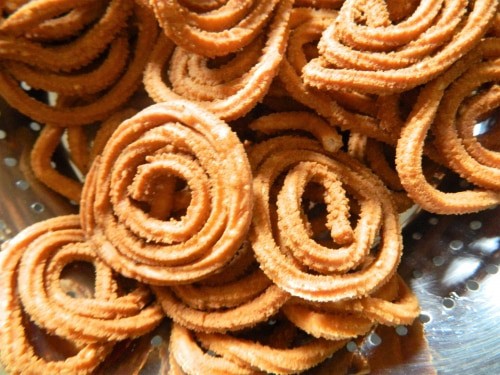 Spicy Coconut Milk Murukku
Murukku is a traditional South Indian recipe prepared on many festive occasions especially on Diwali. Spicy Coconut milk murukku is a little deviation from the original murukku wherein coconut milk is used to make the dough along with other spices.
Ingredients
2

cup

rice flour

½ cup urad dal flour

3

tsp

butter

room temperature

2

½ tsp sesame seeds

1

tsp

red chilli powder

¾ tsp coriander powder

½ tsp pepper powder

¼ tsp cumin powder

A generous pinch of asafoetida

Salt as required

1

cup

+ 3 tbsp thick coconut milk

Oil for frying
Instructions
coconut milk: Break a big coconut into halves. Remove the coconut from the shell and chop the coconut. Remove the brown peel. Place in a blender, blend until the coconut is finely powdered. Add 3/4 cup to 1 cup warm water. Blend and strain.

Urad dal flour: Dry roast slightly 1 cup whole urad dal until the raw smell fades and allow it to cool. Grind to a fine powder and sieve it.

Sieve together rice flour, urad dal flour, spices and salt.

Add butter and sesame seeds.

Mix gently using fingertips to form a texture like breadcrumbs.

Add coconut milk little at a time and make soft smooth dough. The amount of coconut milk may vary depending on the quality of the rice flour. Hence add accordingly and check for spices.

Rest it for 20 - 30 minutes.

Heat oil in a pan.

Take a small portion of dough and place it inside the murukku maker with 3 holes disc.

Grease 3 ladles or a small plate or use baking sheet for preparation. Squeeze murukku on it and then gently drop it into the hot oil.

Once cooked, transfer it to a colander for excess oil(if any) to be drained.

Repeat the process for the rest of the murukku dough. Allow the murukkus to cool completely and transfer them to an airtight container.
Notes
1 cup of whole urad dal yields approximately 1 ¼ cup urad dal flour. Hence store the remaining flour for future use.
Unlike the regular coconut milk murukku, this will be little brown in color due to the addition of spices.