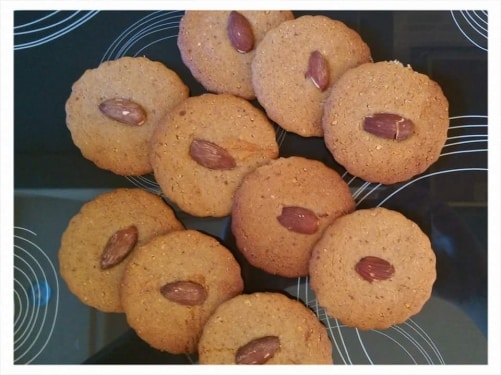 Spice Cookies
The goodness of honey, nuts and spices with wheat. This becomes a perfect and healthy snack for the hunger pangs in between the meals.
Ingredients
Wheat flour - 1 cup

Maida - 1 cup

Butter - 1/2 cup

Brown sugar - 1/2 cup

Honey - 2/3 cup

Roasted almonds powder - 3/4 th cup

Ginger powder - 1/2 tsp

Nutmeg powder - 1/4 th tsp

Cinnamon powder - 1.25 tsp

cloves

powder - 1/4 th tsp

Pepper powder - 1/4 th tsp

Baking soda - 1/4 th tsp

Vanilla essence - 1 tsp
Instructions
1. Cook the brown sugar, butter and honey together till the mixture, on a medium flame. Let it boil and bubble for 2 minutes. Keep aside and let it cool down.

2. Now add rest of the ingredients to the flours and mix well.

3. Now add this flour mixture to the honey mixture and form a dough.

4. Roll out the dough and cut cookies using a cookie cutter .

5. Put a sliced almond on top of each cookie and bake them at 180℃ , in a preheated oven for 7-10 minutes. Cool them and serve.