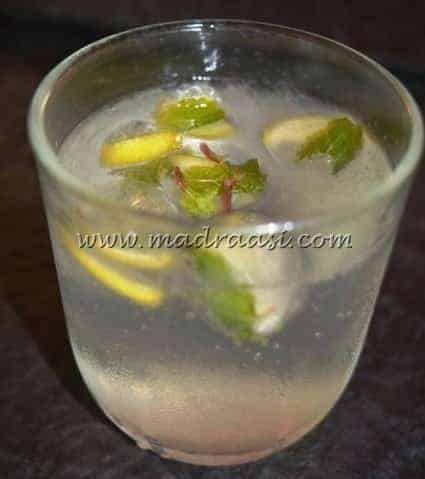 Sparkling Limeade
11 May, 2015
Sparkling Limeade is nothing but lemon, sugar syrup, mint leaves, ice cubes together with sparkling water. Sparkling water is nothing but our carbonated water commonly known as club soda. A good coolant for summer with the healthiness of lime and mint leaves
Ingredients  
Lime – 4 nos

Sugar – 3 tbsp

Mint leaves – 6 Sprigs

Cold sparkling water – 5 cups

Ice cubes – as you need
Instructions 
Boil sugar and water in a small pot, allow to boil for few mins and remove from heat.

Roughly chop 4 mint sprigs, add the chopped mint sprigs and allow to infuse for 30 mins.

Strain the syrup, pour in the lemon juice and refrigerate it for atleast 30 mins.

In a small ice tray, pour in the water and add a mint leaves along with a small stalk and a small lemon wedge. Place in freezer, wait till it freezes.

To serve: In a glass, add in a pinch of salt, 2 tbsp of sugar mint syrup, and then pour in the sparkling water (club soda). Add in the ice cubes, add in lemon wedge and mint leaves if needed. Serve chilled.