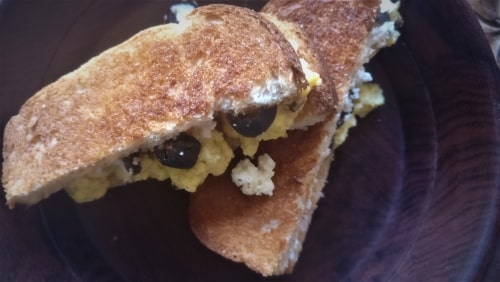 Scrambled Egg Sandwich
6 June, 2017
Don't skip the most important meal of the day i.e you breakfast just because you are running short of time and getting late to office. Try this protein packed scrambled egg sandwich which has the richness and proteins from egg and cottage cheese. Easy and quick to make, it is a great lunch box or snacks idea for your kids.
Ingredients
Whole Wheat Bread - 2 slices

Mayonnaise Sauce - 1 tablespoon

For Cottage Cheese Cumble

Homemade Cottage Cheese - 50 grams

Black Olives Sliced - 10

Salt to taste

Optional

For Scrambled Egg

Free Range Egg -1

Whole Milk - 3 tablespoon

Salt to taste

Freshly Pounded Black Peppercorn -4

A knob of Butter for frying
Instructions
Grill the whole wheat bread slices in the oven at 180 degree C for 5 minutes.

For Cheese Mix - Crumble homemade cottage cheese and add sliced black olives and a pinch of salt. You can completely avoid putting salt as the scrambled egg would have the sufficient amount of salt for the sandwich. Keep it aside

For Scrambled egg - Whisk the egg, milk, salt and freshly pounded pepper corn together until all the ingredients are combined with a consistency.

Heat the saucepan and let the butter melt. Pour the whisked egg and let it rest for 15 seconds. Stir it with wooden spatula/ spoon scratching it from the bottom. lift and fold and wait for 10 more seconds. Egg has to be moist and softly set.

Remove it from the heat and let it cook in its own heat for another 10-15 seconds. Moist, softly set scrambled egg is ready.