Yield / Serves
4 Servings
200 grams Green Amaranth Leaves , finely chopped
Red chilli powder , for garnish
we will first roast the semolina . In a wok, dry roast the semolina until you get a slightly roasted flavor. Roast on medium heat for about 3 to 4 minutes
Once roasted, transfer to a large mixing bowl and keep aside
Add the chopped amaranth leaves into the same heavy bottomed pan
sprinkle some salt and stir-fry the leaves until it becomes soft and cooked
Once cooked, allow the amaranth leaves to cool down and keep aside.
In a large mixing bowl add the roasted semolina, add the salt, the asafoetida, the cooked amaranth, the ginger, the salt, the teaspoon of oil and yogurt. Add water little at a time and stir to make a thick batter
rest for about 5 minutes.
Preheat a steamer with water on medium-high heat.
Grease the Dhokla Plates with oil and pour the Amaranth Sooji batter evenly into the plates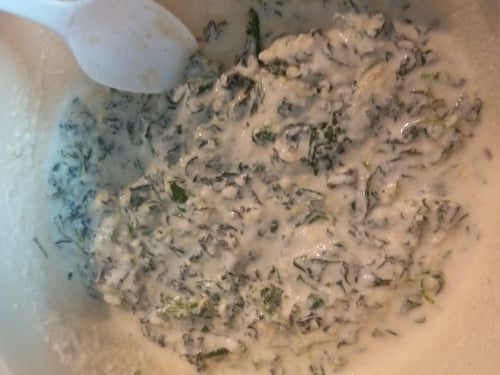 Sprinkle just a little red chilli powder over the batter
Place the filled plates in the steamer and steamer on high for 15 to 20 minutes. After turn off the heat and remove the dhokla from the steamer and set aside for 5 minutes before you can cut them into shapes.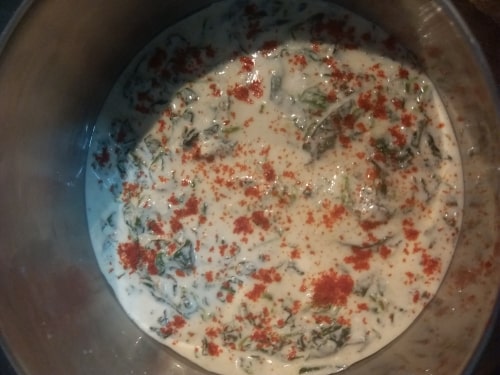 Heat a teaspoon of oil in a tadka pan; add the mustard and cumin seeds and allow it to crackle. Add the curry leaves and give it a stir. Turn off the heat.
Drizzle the seasoning over the Amaranth Sooji cake and serve it along with Green Chutney.
How useful was this post?
Click on a star to rate it!
Rated 4.5 based on 2 votes
Be the first to rate this post.