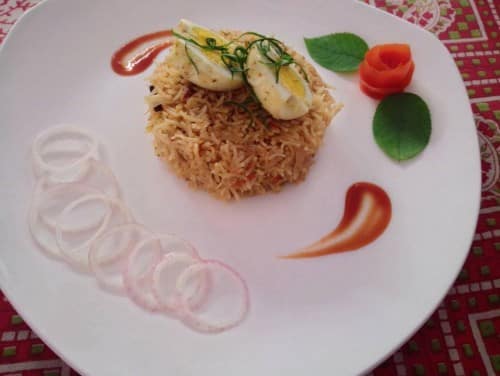 Saufyani Egg Pulav
30 August, 2016
Ingredients
Sliced Onion 1 No

Sliced ginger 1 inch

Chopped garlic ½ tsp

Bay leaf 1 No

Cinnamon 1No

Chopped Tomato 2 No

Soaked Basmati Rice 200 gm

Salt As per taste

Oil 4 tbsp

Boiled egg 4

Grind fennel powder 3 tsp

Brown onion 3 tsp

Mint leaves For garnishing

Chili powder ½ tsp
Instructions
Take a pan add oil now add bay leaf and cinnamon stick.

Add sliced onion, cook it till light brown.

Add sliced ginger and chopped garlic, stir it properly.

Add chopped tomato and cook it.

Add salt and red chili powder.

Add soaked rice and stir it properly.

Now add water stir it.

When half water becomes dry add boiled egg and fennel powder.

Cover the pan with silver foil and give it Dum for 5 min.

Now open the foil and add brown onion.
Notes
I have learned all these recipes at Hotel Leela as I have won Lufthansa Cook & Fly" contest and Here is my Story