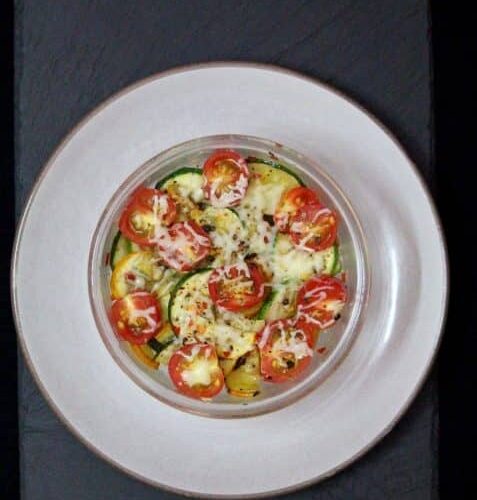 Roasted Zucchini And Tomatoes Recipe
28 August, 2017
Roasted Zucchini and tomatoes recipe is baked to perfection when it's loaded with Italian seasoning and lots of cheese. Easy to make and quick dinner recipe for those tiring week nights when you want to have one pot meal which is simple yet delicious. When infused with the flavor of garlic and topped with chili flakes, it makes a perfect dinner recipe. Are you already craving for it now? The wait is over, just check out the easy roasted Zucchini and Tomatoes recipe
Ingredients
Tomatoes

cherry, cut into halves- 1 ½ cups

Zucchini

green, sliced and cut into halves- 01 no. large

Zucchini

yellow, sliced and cut into halves – 01 no. large

Garlic

minced- 4 cloves

Italian Seasoning- 01 tsp

Red chilli flakes- 01 tsp

Salt- to taste

Black pepper

freshly ground- 1/4th tsp.

Cheese

processed, grated- 03 cubes small

Extra Virgin Olive oil- 1/4th tbsp.
Instructions
Preheat the oven to 450â—¦ F.

Grease the baking sheet

In a glass bowl, combine the zucchini, tomatoes, garlic, and red pepper flakes Drizzle with the olive oil, Italian seasonings, salt and pepper and mix well.

Place on the baking sheet.

Place in preheated oven. Bake until vegetables are tender and slightly golden in color, about 15 minutes.

Remove from oven; sprinkle with the grated cheese. Gratinate for another 03 to 04 minutes. Serve hot.
Notes
About the Author: This recipe has been shared by Chef Reetu Uday Kugaji who believes that food that she cooks should touch heart and soul of the person and she dedicates all her success to her Angel Mother.