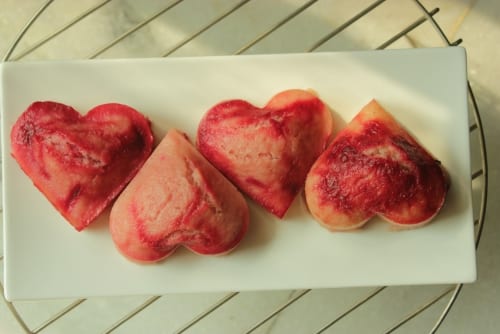 Red Velvet Idli
10 February, 2017
Idli is one of the healthiest and wholesome breakfast Over the years, traditions, customs, clothing, approach and eating habits have changed drastically. People are getting into healthy eating and drinking. So for valentine's day, Iddly Faktory which is a came up with the idea of making red velvet idly without breaking the concept of healthy eating and also making our customers happy."
Ingredients  
Whole White Urad Dal - 1 Cup

Idli Rice - 4 Cups

Fenugreek seeds/Methi Seeds - 1 tablespoon

Salt - 1 tablespoon

Beetroot - 1 small
Instructions 
Wash and soak urad dal and idli rice 3 to 4 times and soak them separately for a minimum of 3-4 hours. While soaking urad dal add fenugreek seeds to it.

Clean the wet grinder before every use. After 4hours drain out all the water from urad dal and add it to the wet grinder.

Once you start grinding add half a cup of water. While grinding urad dal add the water slowly in regular intervals for two to for two to three times

The urad dal will not fluff up, if you add all the water at once. The dal should fluff up and fill the grinder. It should have increased about 8-10 times of its original volume. It should come out as butter. Grind for at least 30 minutes

Once done, transfer the mixture into a bowl and set aside.

Now grind the soaked and drained rice until smooth. Add just enough water while grinding. The consistency should be medium. Once ground, transfer the batter to the dal mixture bowl and mix well.

Add salt to the batter before fermenting in summers and add it after fermenting in winters. Usually, the batter needs to ferment for 5-6 hours depending upon the weather.

Once the batter is nicely fermented, take a ladle and mix it well. Your batter is now ready.

To get Red velvet idli mixture: Grate half a beetroot and squeeze it well. Add the squeezed juice to four scoops of idli batter. Mix it well. Your mixture is ready.

For making soft red velvet idli: Pour some water in an idli vessel and put it on medium flame. Oil the idli plate and gently fill the rounds with the red velvet batter

Put it inside the idli vessel and let it steam for 10 minutes. Do not allow it to overcook as it might become hard and dry.

Just keep an eye and remove the idli after 10 minutes. Do not remove the idli immediately as it might stick

Allow it to rest for another 4-5 minutes and then spoon it out. Once removed use heart shaped sandwich cutter/cookie cutter to get heart shape idli. Serve hot with your favorite chutney or sambar
Notes
This recipe has been shared by Iddly Faktory, which believes in Authenticity, Freshness, Health and Single Minded Commitment to Service. 
Manned by Traditional chefs specially flown in from Chennai. They are from the Kumbakonam region of Tamilnadu and bring a special flavor to the food. The focus on freshness, healthy cooking, the authenticity of traditional flavors and quality of ingredients is high on the agenda of Iddly Faktory which have their  FSSAI Approved Traditional Kitchen in Gurgaon.  If you are in Gurgaon don't forget to visit Iddly Faktory at Block C, Ardee City, Sector 52, Gurugram, Haryana – 122003.