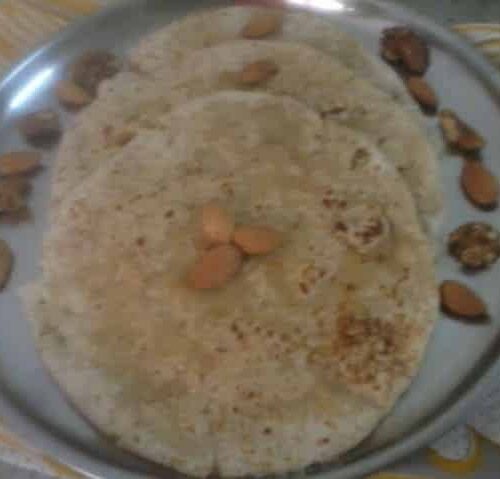 Rawa Sheera Poli
Ingredients
Rawa/Semolina

2 small bowl

Sajuk Tup/Pure Ghee

1-2 tblspn

Almonds/Badam

5-6 no

Cashewnuts/Kaju

5-6 no

Raisins

8-10 no

Cardamom powder

Dry coconut

half piece

Wheat flour dough

of 2-3 small bowl

Sugar

8-9 tspn

Water

1 cup
Instructions
Heat sajuk tup/pure ghee in a wok/kadhai.

Add the rawa/semolina and roast till it is brownish in color.

 Heat about 1 cup water till it is lukewarm.

Turn off the heat of the rawa side & slowly add the lukewarm water & mix well.

Turn on the heat, add sugar and cook for on low flame.

Chop the almond & cashewnut in small pieces and add to the rawa.

For making the rawa sheera roti we need the sheera to be sticky.

So add water if required, sticky enough to make small balls.

 Turn off the rawa sheera flame,grate the dry coconut and add over the rawa.

 Let the rawa sheera cool till room temperature. Add the cardamom powder.

Make golf size balls of the rawa sheera.

Take wheat dough ball a size more than the rawa sheera ball, roll from all the sides to make small roti.

Place the rawa sheera ball and close from from all the sides to make a ball or modak shape.

Slowly press the dough with hands and sprinkle some dry wheat flour & roll to make a roti/poli

Place the poli/roti on the hot tawa, cook from one side,flip & spread sajuk tup. 

Cook the poli/roti from both the sides.

Serve with milk or enjoy it just with the pure ghee/sajuk tup.

Repeat the procedure to make more rotis/poli.