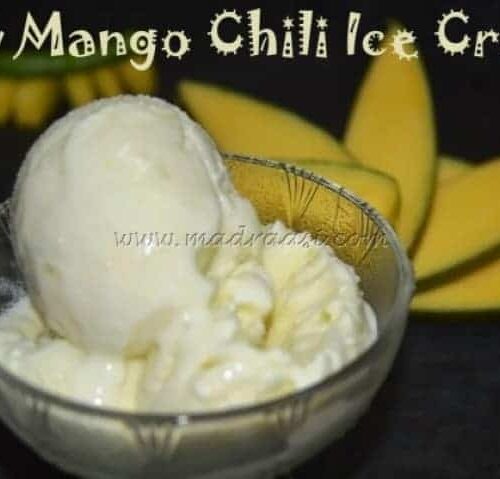 Raw Mango Chili Ice Cream
10 May, 2016
The Ice Cream came out to its own perfect texture, one could feel the flavor of raw mango and chili and when it melts in the mouth we can feel the tingling taste of raw mango with little sweetness, and punch of green chili. The secret of the taste is "Too much of anything is good for nothing", so be sure with the right quantity of raw mango, green chilies and sugar getting induced in the Ice Cream. When something induced much, you will miss the punch in the Ice Cream.
Ingredients
Full fat milk – 1 cup

Fresh cream – ¾ cup

Sugar – ¾ cup + 1 tbsp

Raw Mango – ¾ cup

Green chili – 1 no

medium sized

Salt – a pinch
Instructions
Pour the milk in a wide mouth bowl, pour in the fresh cream and mix them well.

Grind the sugar to a fine powder, keep it aside.

Add in the sugar to the bowl and whisk it well, until the sugar gets dissolved.

Take ¼ cup of mango pieces, pinch of salt and half the green chili in a blender, blend them well to a fine paste by pouring in 2 tbsp of water.

Pour in the mango paste to the milk mixture and whisk them well until it becomes fluffy.

Grate rest of the raw mango pieces and keep it aside.

Sprinkle half the quantity of grated mango pieces to the milk mixture, whisk it.

Pour the milk mixture to an air tight container and freeze it for 5 to 6 hrs.

After 6 hrs, blend the leftover mango pieces and the green chili, with a tbsp. of water to a fine paste.

Remove the container, scrap the ice cream, transfer it to a blender and blend the well with the mango paste until fluffy.

Add in the leftover grated mango to the ice cream, whisk it well.

Pour it to an air tight container and freeze it for another 6 to 8 hrs.

Remove the bowl from the freezer, scoop the ice cream and serve chilled.

Serve chilled with a sprig of mint leaves.