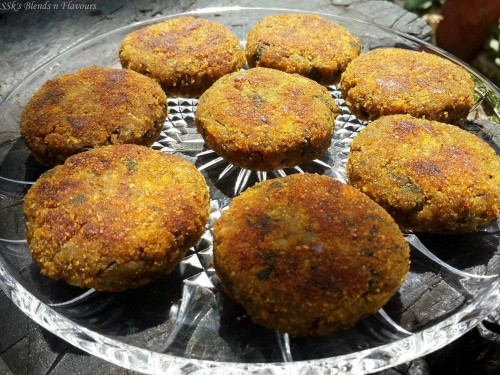 Raw Banana Mixed Dhal Cutlet
11 April, 2017
An interesting variation to the usual vegetable cutlet… Raw bananas and mixed dhal adds up to the nutritious quotient of the recipe… The cutlet is scrumptious, full of flavors and most importantly it is tummy filling…Best choice to serve at parties as starters or as anytime snack or as a part of breakfast spread…In this recipe I have included spinach or palak also, just to give some color and make it healthier. It is pan fried and hence calls for very little amount of oil.
Ingredients
Raw Banana- 2

large sized, unripe

Mixed Dhal- 1 cup

equal amount of thuvar, channa, green moong, yellow masoor, urad dhal

Spinach or Palak- 12 cup

finely chopped

Green Chilly- 12 tbspn

finely chopped

Garlic paste- 1 tsp

Ginger Paste- 12 tsp

Jeera Powder- 12 tsp

Coriander powder- 1 tsp

Red Chilly Powder- 12 tsp

optional

Salt to taste

Cornflakes- 2 or 3 tbspn

coarsely grounded

Cooking oil to pan fry the cutlets
Instructions
Wash and soak mixed dhal (equal amount of thuvar, channa, green moong, yellow masoor, urad dhal) in water for 3 hrs. Grind it coarsely using very little amount of water.

Wash and finely chop the palak or spinach leaves. Keep it aside.

Pressure cook or microwave raw bananas with skin until they are soft but firm. Bring it to room temperature. Peel the skin and grate the bananas.

In a large bowl, mix grated raw bananas, coarsely grounded mixed dhal batter, finely chopped palak, chopped green chillies, ginger garlic paste, jeera powder, coriander powder and salt.

Mix well and shape the dough into medium sized round cutlets. Let the thickness be about 12 inch. Coat them with coarsely powdered cornflakes.

Refrigerate the cutlets for 15 minutes or till we use. (This helps to dehydrate the moistness in the cutlets and hence crispier when toasted).

Just before serving, cook the cutlets on hot griddle or pan with a tsp of cooking oil. Toast it covered with a lid for few seconds. Open the lid and flip the cutlets to roast both the sides until they turn golden in colour.