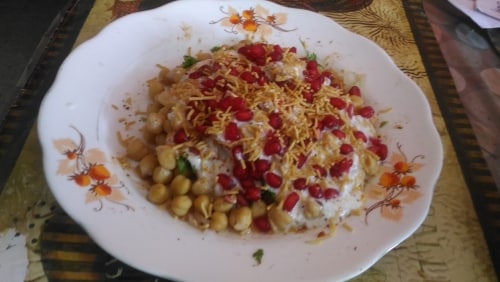 Ragda Patties
16 May, 2018
Ingredients
For ragda Boiled yellow matar - 1 cup

Finely chopped onion - 1

Finely chopped tomato - 1

Finely chopped green chilly - 1/4 tsp

Ginger garlic paste - 1 tsp

Garam masala powder - 1/2 tsp

Coriander powder - 1 tsp

Turmeric powder - 1/4 tsp

Salt - to taste

Sweet curd - 1/2 cup

Sweet tamarind chutney - 2 tbsp

Pomegranate seeds - 2 tbsp

Sev - 2 tbsp

Oil - 2 tbsp

Mustard seeds - 1/4 tsp

Cumin seeds - a pinch

For patties Boiled n mashed potato - 2

Corn flour - 2 tbsp

Bread crumb - 1 tbsp

Red chilly powder - 1/4 tsp

Chat masala - 1/2 tsp

Salt - to taste

Ginger garlic paste - 1/2 tsp

Oil - 2 tbsp
Instructions
Heat oil in a pan.

Add mustard seeds and cumin seeds to crackle.

Add onion and saute for one mins.

Add tomato,green chilly and ginger garlic paste and saute for one to two mins.

Add garam masala powder,coriander powder,red chilly powder and turmeric powder and mix well.

Add yellow matar and salt and mix well.

Now ragde is ready

For patties Take a large bowl add all above listed ingredients of patties and make a patties.

Heat oil in a pan and shallow fry the patties

Take a plate add ragda and patties.

Spread sweet curd,sweet tamarind chutney.

Sprinkle roasted cumin seeds,red chilly powder.

Garnish with sev and pomegranate seeds and serve.