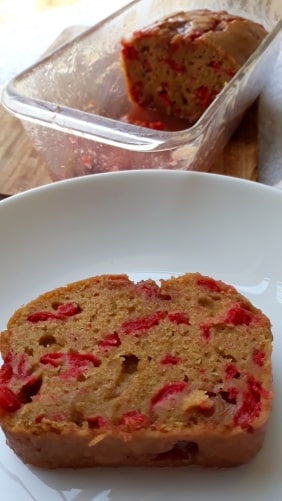 Pv'S Cherry Bread Glazed With Cherry Sauce
20 April, 2018
I call it PV's because i love every thing about this bread, it had never failed, and whoever tasted it once had always asked for more..... Yesterday my friends came over for a casual get together and wanted me to make something different and sweet, something that will be my most favourite dessert. Didn't have to think much... so made my 'the most favourite' cherry bread with canned cherries topped with cherry glaze. It's soft, moist and just melts in mouth, little bit tangy with cherry bits in every bite. Yumm yumm 😍😍. It is consumed warm and tastes even better when chilled...
Ingredients  
For bread ; 3/4 cup gur/ sugar

3/4 - 1

 cup milk

1/2

 cup ghee

1

 large egg beaten or 1/4 cup of apple puree or 1/4 cup thick curd in room temperature.

1

 teaspoon vanilla extract

2

 cups wheat flour

minus 1 tablesppon

1

tbsp

corn flour

2

 teaspoons baking powder

1 -1 1/2

cup

chopped canned cherries

For Glaze: 1/3 cup powdered gur / sugar

2

 tablespoons melted butter

1/3

 cup crushed cherries

Some juice from the can

opitional can use any juice instead

1/2

 teaspoon almond extract
Instructions 
Preheat the oven to 200C

Strain the cherries. Discard seeds and finely chop the cherries. Should be 1 cup or if you like more can add 1 1/2 cups.

In a separate bowl, combine the flour, baking powder and salt. Add the dry ingredients to the wet ingredients and stir until just combined.

Gently fold the cherries into the batter.

To make the glaze, combine the powdered sugar, melted butter, cherry juice and almond extract in a small bowl. Mix until it is smooth.

Once the bread is cool, spread the glaze on top of the bread. In some hours the glaze gets aborbed into the bread, which makes the bread very moist. Slice and serve.